27 Jan

What up Third Tri???: Weeks 30-31

Oh baby – here we go! Third Trimester is in full force and as much as I am a super excited to see it, I'd be lying if I didn't tell you I'm over here like, "Oh shiz, I'm going to be a mom in 10 weeks (give or take).  So I'm gunna buckle my seatbelt and hold on for this wild ride. Home stretch baby.

When I wen to the docs for my 31 week appointment they actually thought my belly was measuring small, so they did an ultrasound just to take a look at things. Come to find out it was just how the baby was positioned when I was lying down and instead they estimated this little monkey was weighing up to 4.1 lbs with 3-5 more pounds to gain. Obviously, taking that bit of info with a grain of salt – I've heard stories form more than enough of my friends who have been told their baby was going to be 9-10 pounds and came out a little 5lb peanut, or vice versa! And I'm pretty sure everywhere I go someone comments on how big I am or how they can't believe I still have two months to go…so I was pretty surprised when she told me I could be measuring small.

Now some pics of my rather large belly 🙂

Week 30: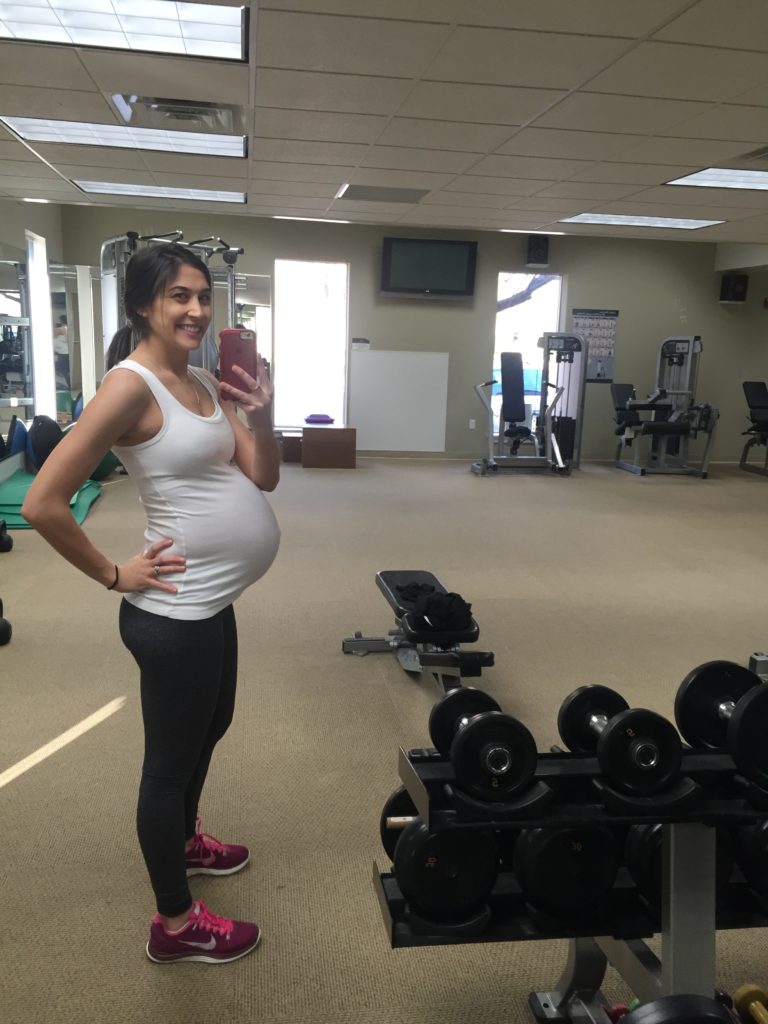 Week 31: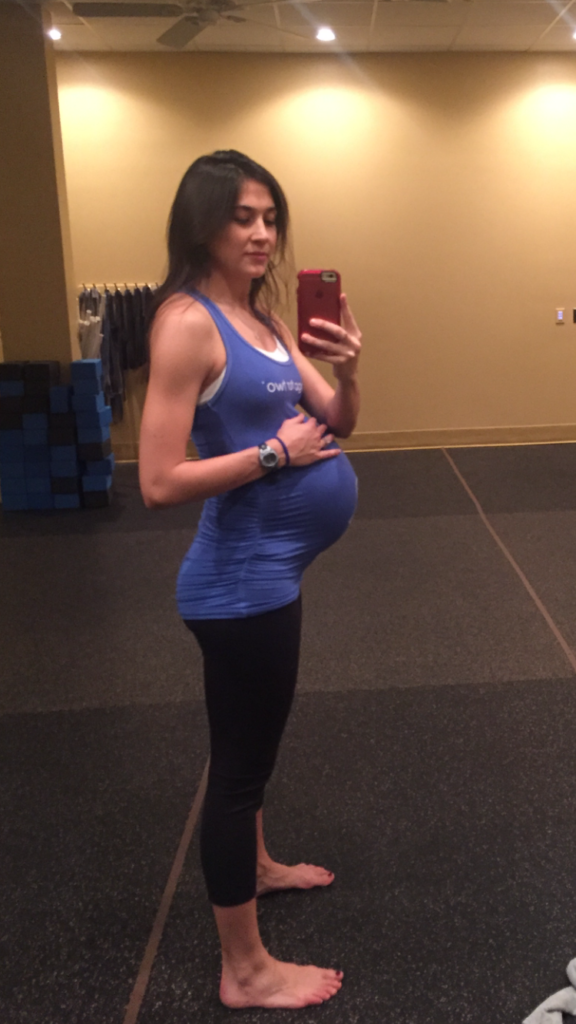 Random thoughts & how I'm feeling:
– I am the worst photo taker. I'm sorry. Bri and I tried really hard at the beginning to do the whole picture a week in the same spot with a nice little sticker or chalkboard, but then…life happened and I guess you could say we failed at our first parental duties of belly documentation. Oops.
-I seriously felt that once week 30 hit, anxiety set in. I felt like I had done nothing to prepare. The whole time I've been calm, cool and collected and then all of a sudden. WHAM.
-Even thought I'm feeling totally normal, my new normal is the pace of a snail. I am slowing down big time and I don't mean for that to sound negative. Days involve logging much more couch time than normal. I actually sat and watched all of The Martian start to finish without interruption. For those that know me…me & movies/tv do no typically happen.  Workout motivation has been needing much more of a pep talk (and workouts overall have quickly changed to more long walks and simple strength routines).
-Definitely feeling "Wider" through my belly and hips. I'm feeling baby girl at ribs and at a my hips at the same time. She's getting' biiiiiiig. Feels like someone has kneed me in my crotch. Lets chock that up to Round Ligament Pain.
-Still having trouble sleeping. LEG CRAMPS returned with vengeance.
Cravings:
Sweet Potatoes roasted in coconut oil. Eggs. Avocado. Oatmeal. Still so indecisive about food. We had our date night planned for last Friday – Brian's pick. He made reservations in West Chester where I've been begging to go and at the last minute…I just couldn't do it. So we set out to get sushi at a new place….I got freaked out about cross contamination. So we stopped at Not Your Average Joes…the wait was 30 minutes and I couldn't wait that long. So we tried Avenue Kitchen – went in, sat down, and looked at the menu…It was too "upscale for my mood". So we finally left and Bri drove to Grub Burger and the decision was final. And it was perfect. I thought he was going to kill me.
Aversions:

The thought of most food really..until it's placed in front of me. Nothing really sounds good. Ugh so annoying. Needless to say, Bri has been doing a lot of the food prep.
Workouts:
Like I've mentioned, a definite sloooow down. Some days consist of nice long walks. Others, simple strength routines.  More and more modifications – I've noticed I can't squat as low. I can no longer really lay on my back, even for a little bit, without feeling short of breath. Bye Bye Savasana. Side planks on my knees, which was surprising since they should be more belly friendly than regular planks, due to gravity…whatevs. Decreasing weights. All that good stuff. But I still feel great after working out!!
Other updates:
We got our Rocker for the nursery! Yahoo!!!! We ordered it back in November and it just came in! I was super nervous about all the furniture fitting in that small room, come to find out our real problem was actually getting it into the room.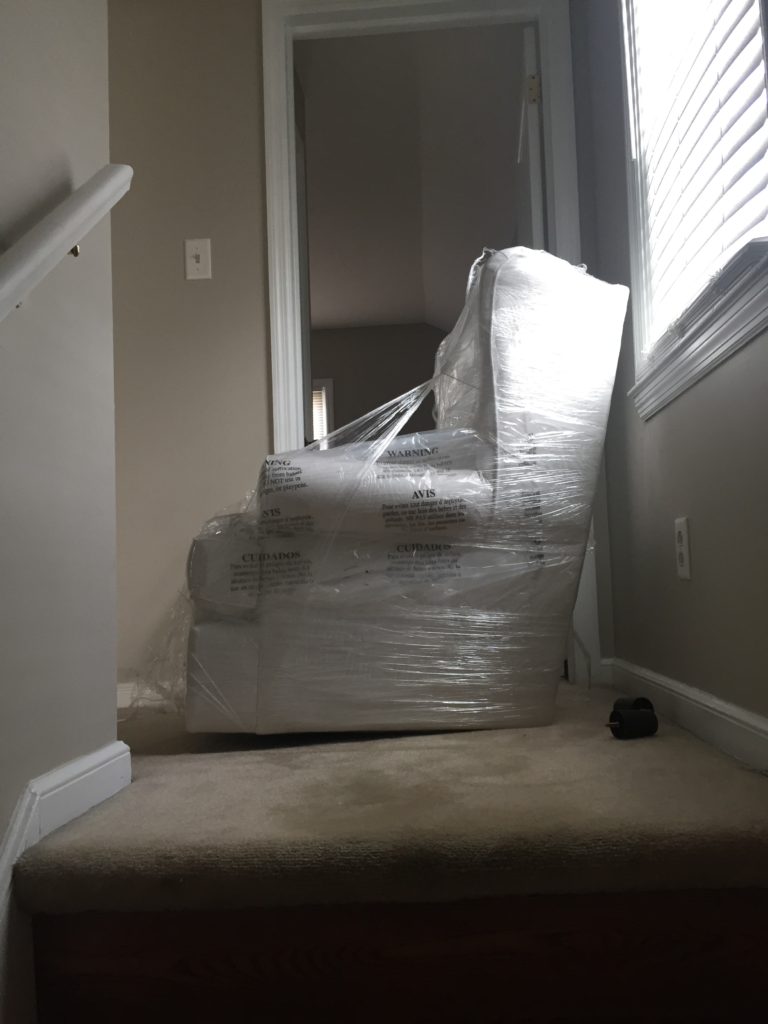 After we took the closet door off the hinges, we were able to MacGyver this little puppy into the room and found out it fits perfectly!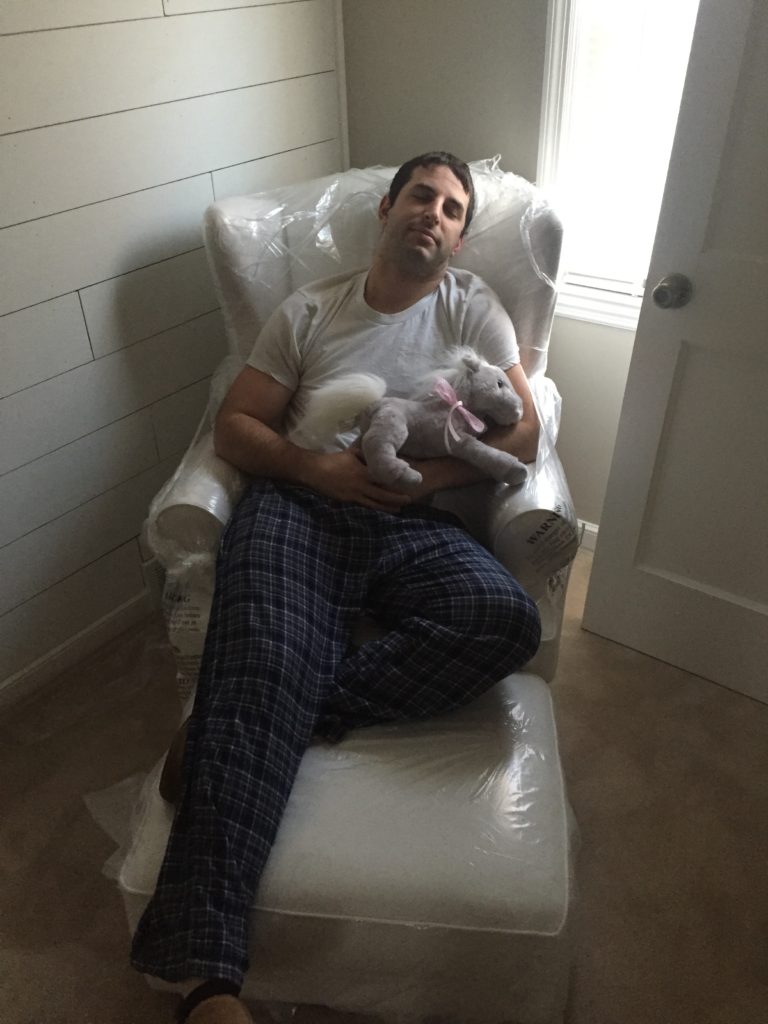 Apparently this is what Bri thinks he is going to be doing every time he holds the baby.
Okay, now it's time for me to go find something to eat. It sneaks up on me quickly and typically ends with something smothered in peanut butter. Y'all have a great day!!!