20 Sep

The Delaney Diaries: 6 month check in

Half a year has come and gone. Summer is ending, the days are getting cooler and it seems as though we are getting ready to start a new chapter of your life, Delaney.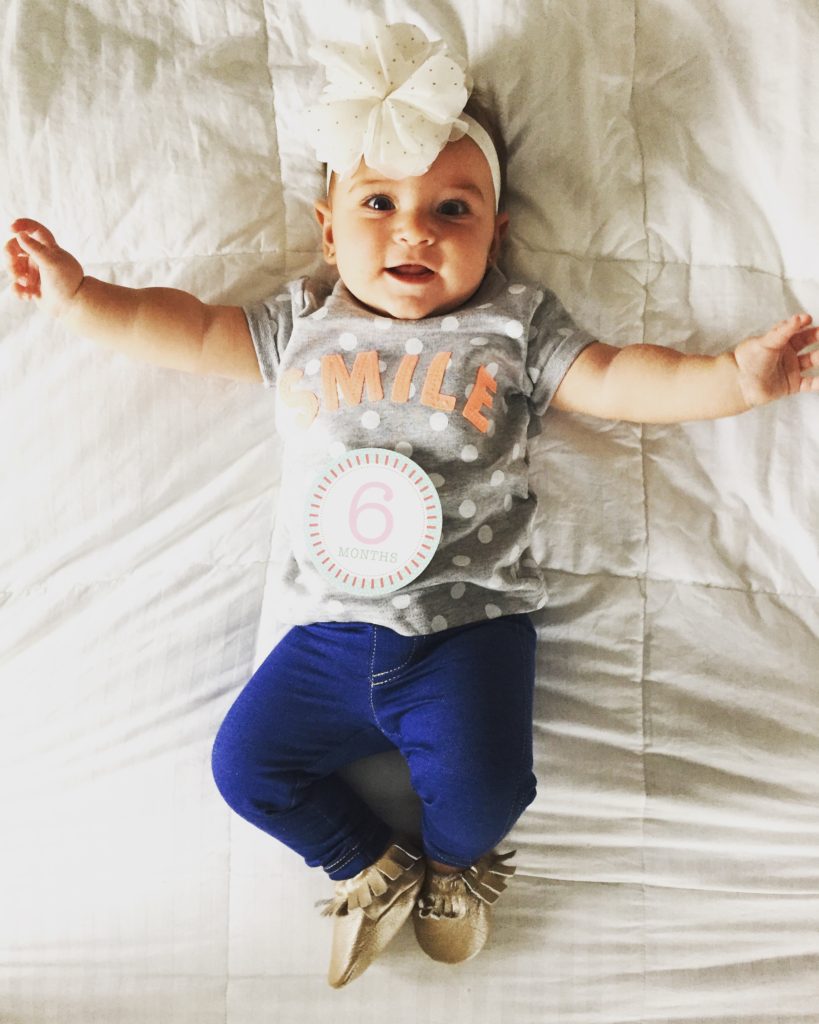 Just like the weather, changes are a'comin'. I have a feeling before too long we are going to be "laney" proofing the house and we will no longer be able to leave you in one place and expect you to stay!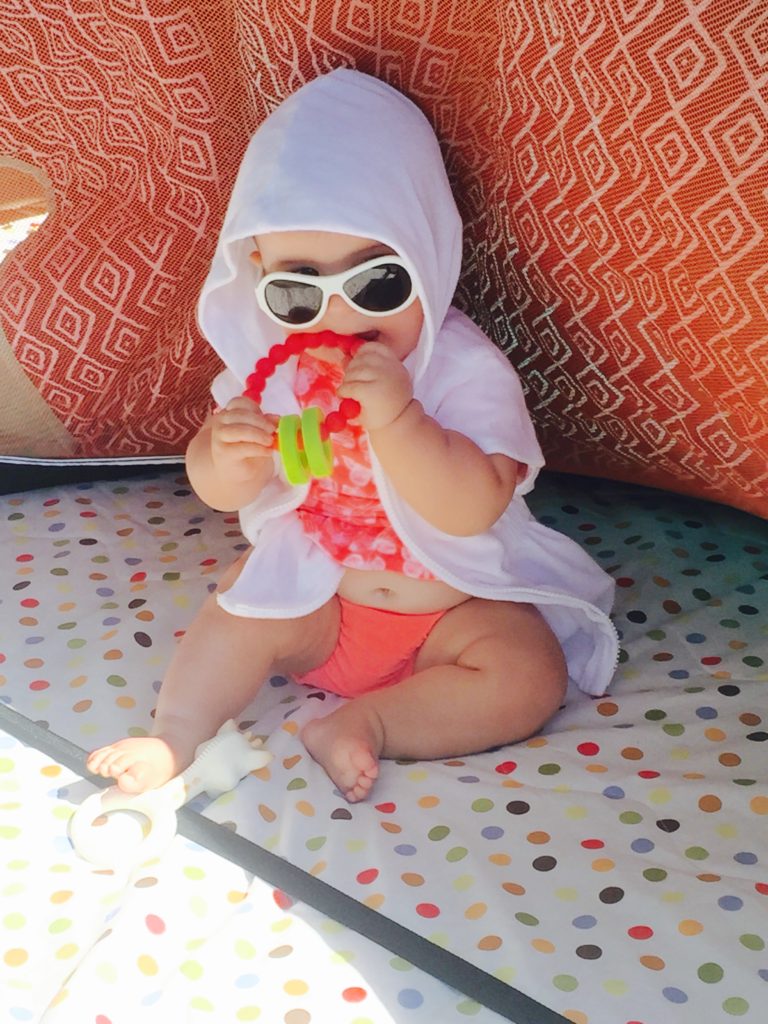 I'm at the place that when I see a newborn, I realize…you're no longer one. For the first time I've had those little pangs of nostalgia for the earlier days when you we would snuggle on the couch all day – nursing and napping – napping and nursing. It's amazing the changes you've made in just 6 short months!
Just as those little grunt and sweet yawns melted my heart, these days that gummy grin that takes over your whole body, excitable kicks and contagious giggles literally turn me into a puddle of mush. No matter what is going on, no matter how tired I am – one look from you turns my whole day around.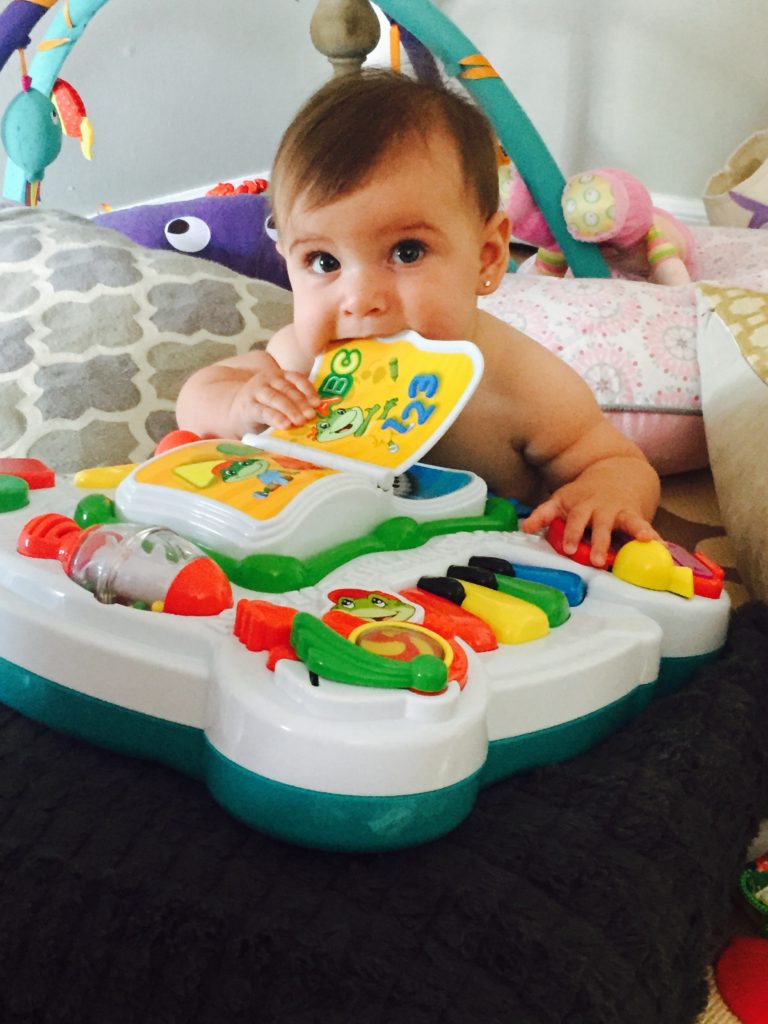 Whether playing with you on the floor, taking a walk or nursing, every moment is filled with so much love and feels more special than the next. I can't believe that in just a few short months my helpless little baby will be an independent toddler. I feel the need to whip out my phone every second to capture each second, so that I'll never forget that moment in time with you.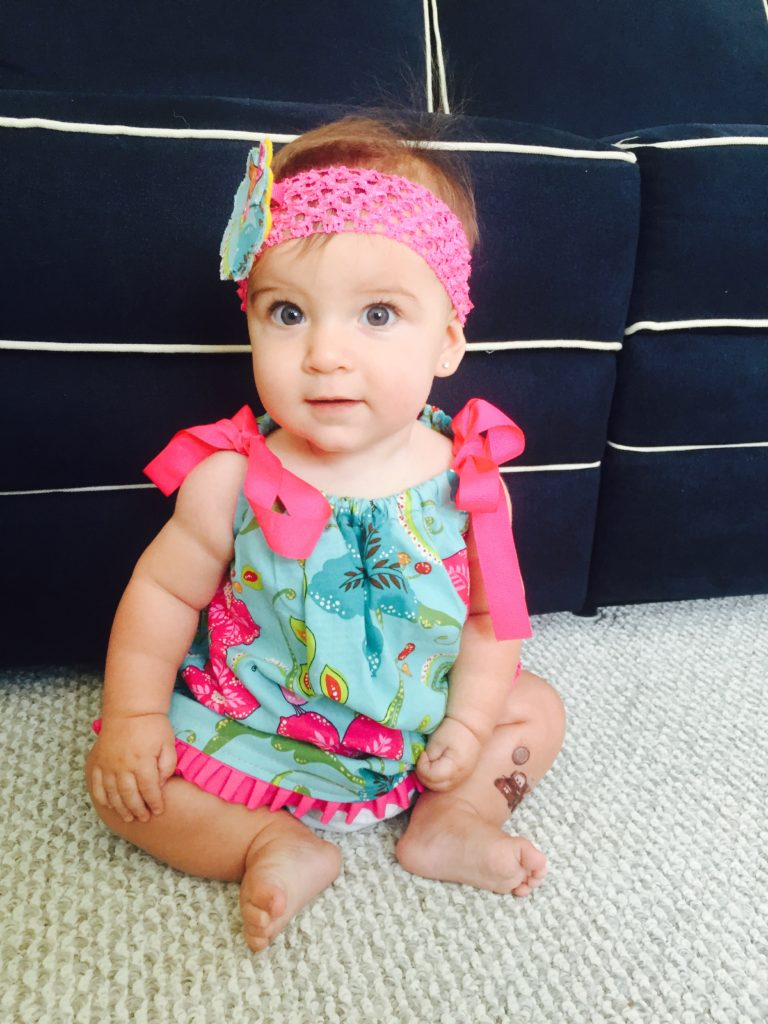 At six months you have really have created quite a little personality. During playtime you're are so active and engaging – we feel like we can actually play with you. You are sitting up like a champ all by yourself and I must say you have quite the perfect posture. It's so neat to see your determination as you master new skills and I love each little grunt and squeal. I love the way you light up the moment Dada or I walk into the room. The smile that comes over your face is so rewarding and lets me know we must be doing something right.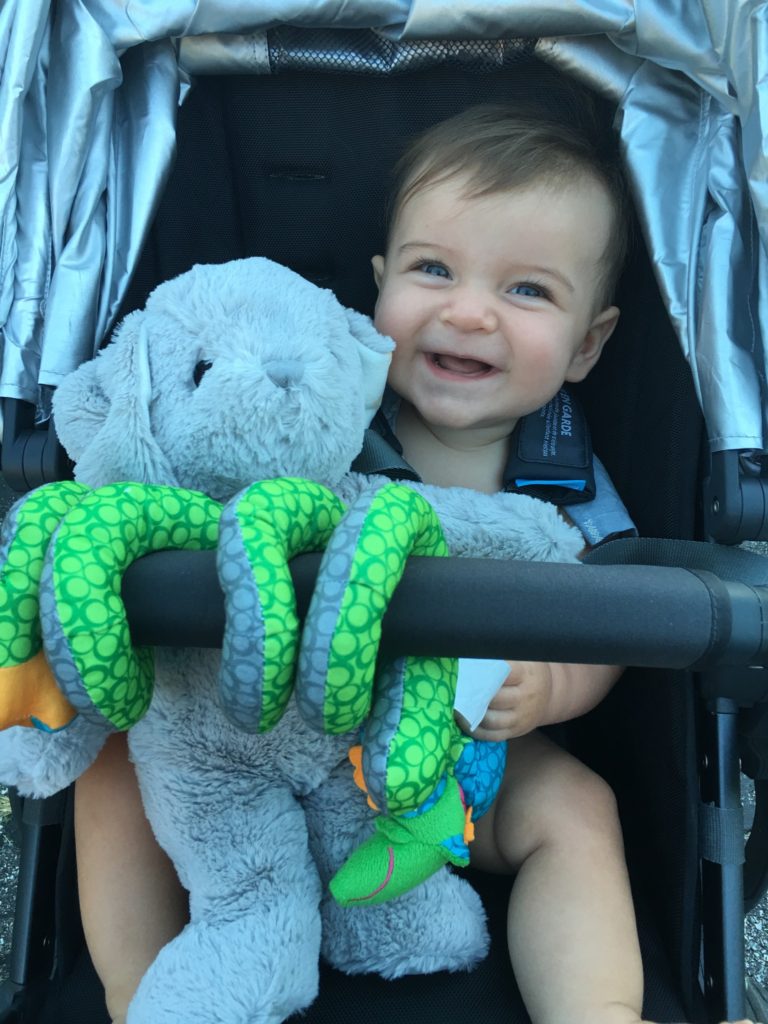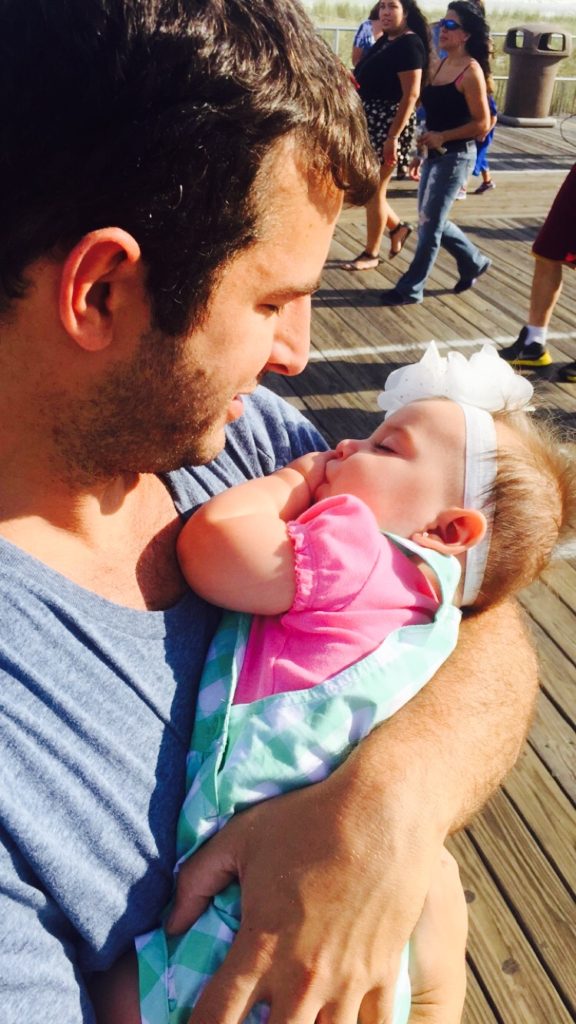 This month your sleep has been pretty darn…great. We literally lay you in the crib on your belly, you find your thumb, and you're out. Other than a few random nights, you consistently sleep from about 7:30pm – 5:17am. Yes, 5:17. I was beginning to get a little freaked out there for a little while, because you would literally make up at 5:17 every morning. I figured I needed to go play the lottery. After a quick feeding, you head back to down for another 2 hours or so. I'm not sure how we got to this point, but I feel like it helped that we all stayed pretty relaxed, didn't try to get you on any sort of schedule and just let you set the pace. If you needed a nighttime feeding, we gave it to you. if you went down for a nap at 4pm and slept all night, we let you. Yes, you did that multiple times and I assume you get that from your Dad. I know it's nothing we did, so for now, I am going to say a little, "Amen", and just hope that this all continues.
I'd say we know each other pretty well now, so I know that If you wake up in the morning or from a nap crying or unhappy – I know you still need sleep. Typically, it takes you a few minutes to find your thumb and you soothe yourself back to sleep. We usually know you're ready to be up if we find you playing with your feet and chatting with yourself.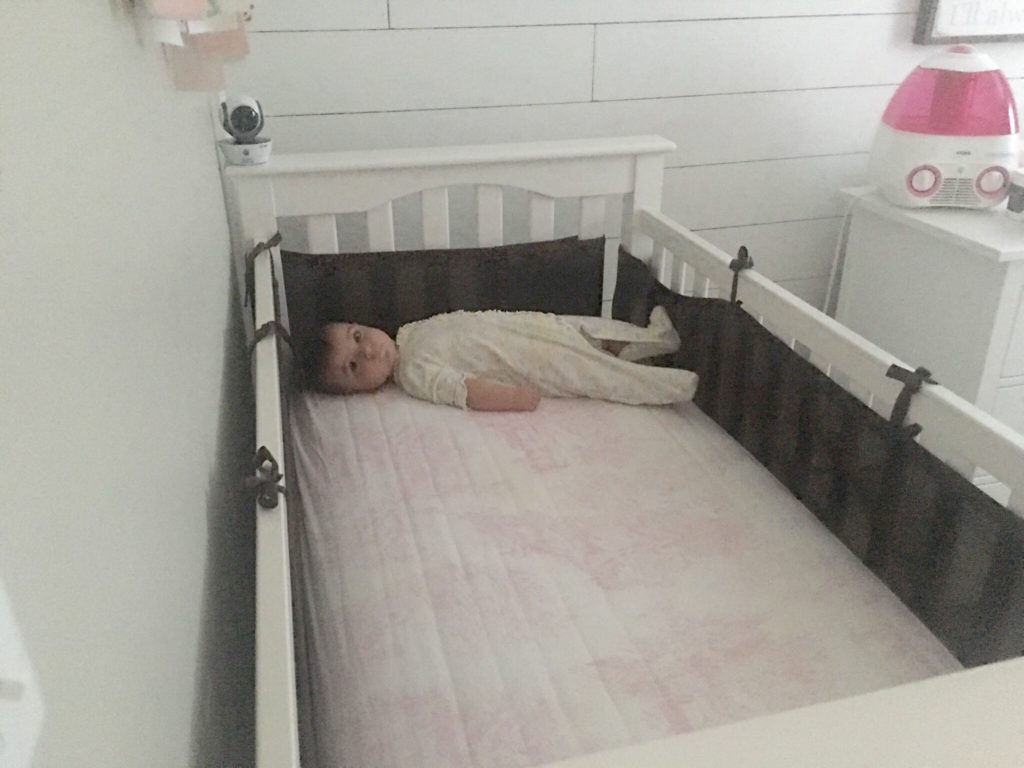 Here is what a typical day looks like for us:
4:30-5:30am – wake & nurse – back to sleep
7:30-8am – wake, nurse & play
9:30am – mid morning nap
11:30 – wake, nurse & play
1:30pm – afternoon nap
3:00pm – wake, nurse & play
4:30pm – afternoon cat nap
5:30pm – wake, nurse and play
7:30pm – nurse & bedtime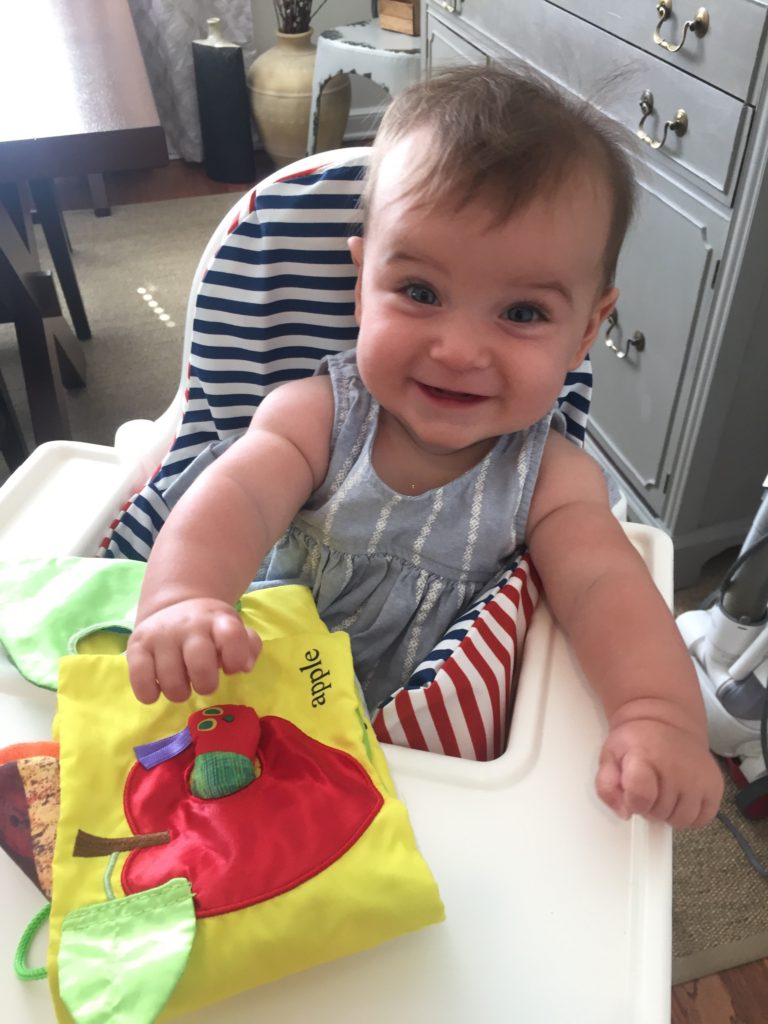 You are definitely at the stage where you are a very distracted eater. The moment you hear someone talking you pop your head up to see what's going on, so I have definitely found it easier to find a quiet place and Brian knows when I give him a look that he is not to speak.   I have to say it's super cute when you pull away and look up at me with the silliest little grin, give out a little coo and then get back to "work". You also love to maul my face while you feed. I actually have battle wounds on my face, especially my nose from where you have "explored" my face a little too much. But of course, I find this endearing 🙂 and will miss it. You also start pounding your fist and kicking your legs which is totally amusing.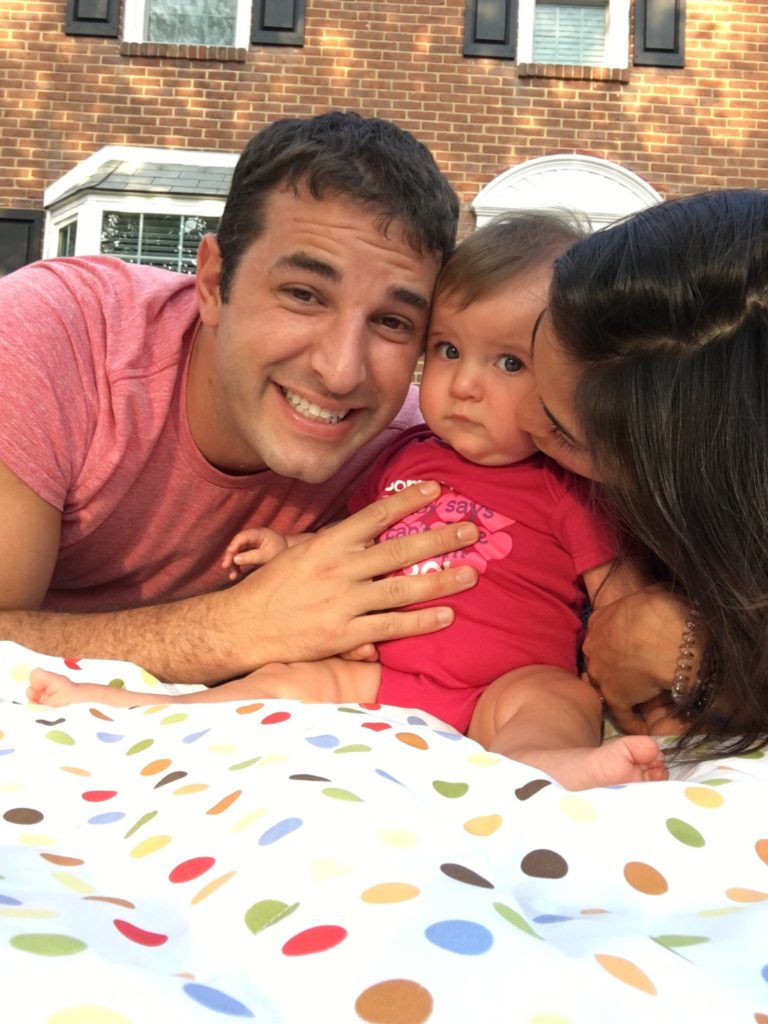 I think it's important to note that for me…Water and quality food is key. When I am drinking enough…and I mean a lot + eating good quality foods – my milk supply is at it's best! I know that an increase, in both water and food is absolutely necessary, especially when working out or being in the heat.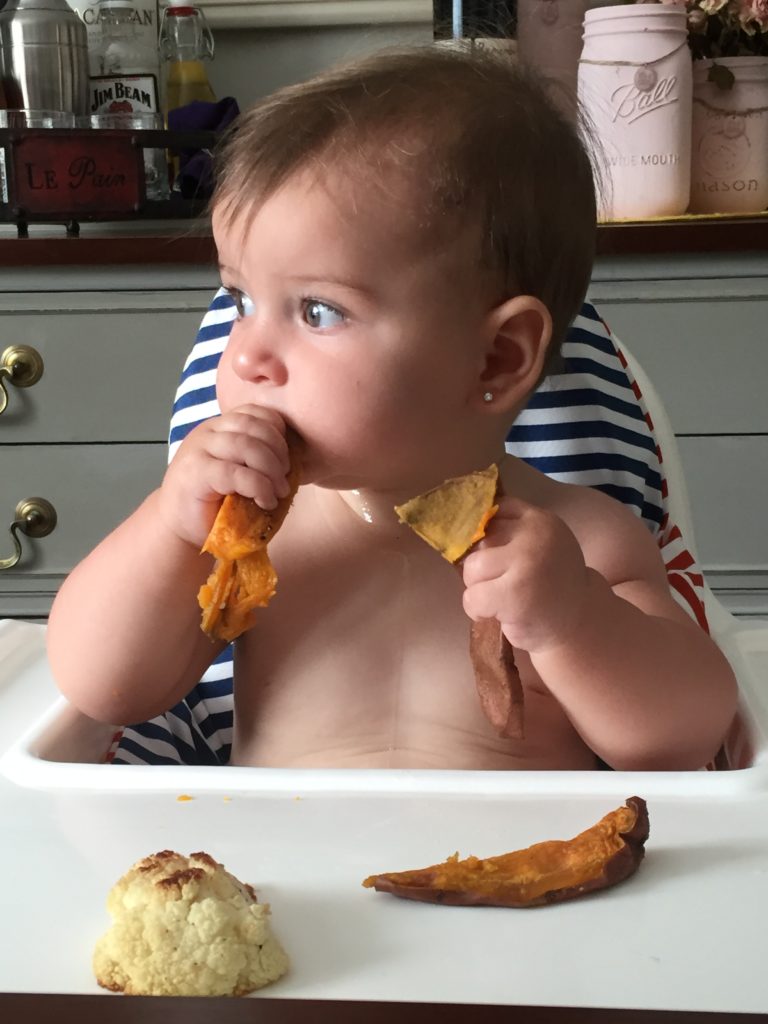 On that same note, you had your first solids this months! Just a week shy of 6 months, we decided to experiment with some real food. Our plan is to follow the Baby Led Weaning approach and modify where we see fit. We figure we will just let you lead the way and see how things go! This month you started to become super interested in what we were putting into our mouths. Watching every move and even reaching for our plate and food. We started with putting you in your highchair at meal times, just that you could be part of things. When we got back from our family vacation, we decided to give things a try!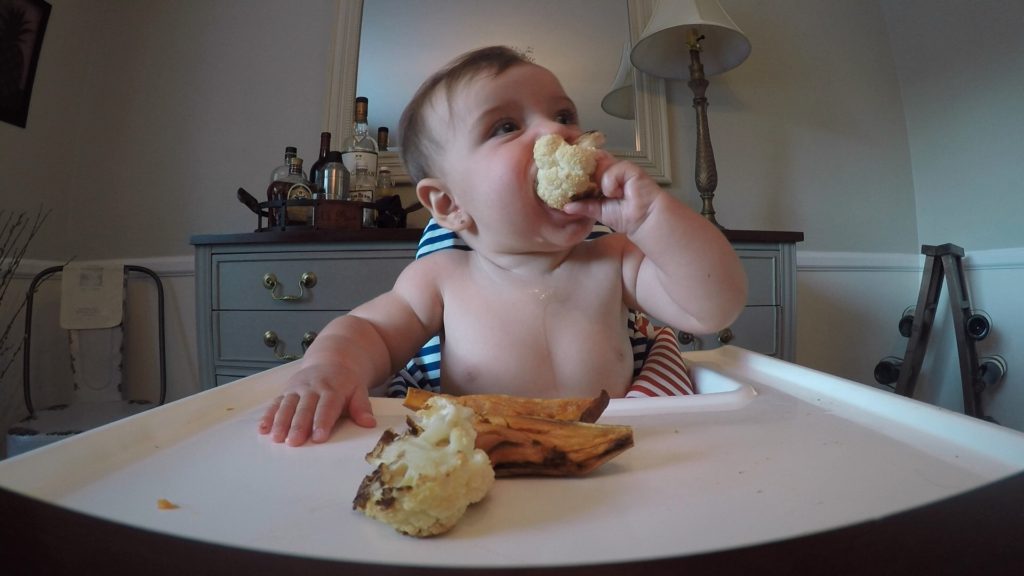 I roasted up some sweet potato wedges and we started there. The first time you pretty much just mashed the food in your fingers and painted it on your belly. The next night was even better. Actually getting the food into your mouth and having your first taste. Your face…priceless. Since then we have given you cauliflower and broccoli, in addition to the sweet potatoes and you've really taken to each one quite well. No way to tell how much you've actually ingested, but your tasting it, your handling it and it's so fun to watch! (I will write more about our BLW journey in another blog post). I can't wait to see how your palate grows as we experiment with different foods and morph you into a little foodie baby!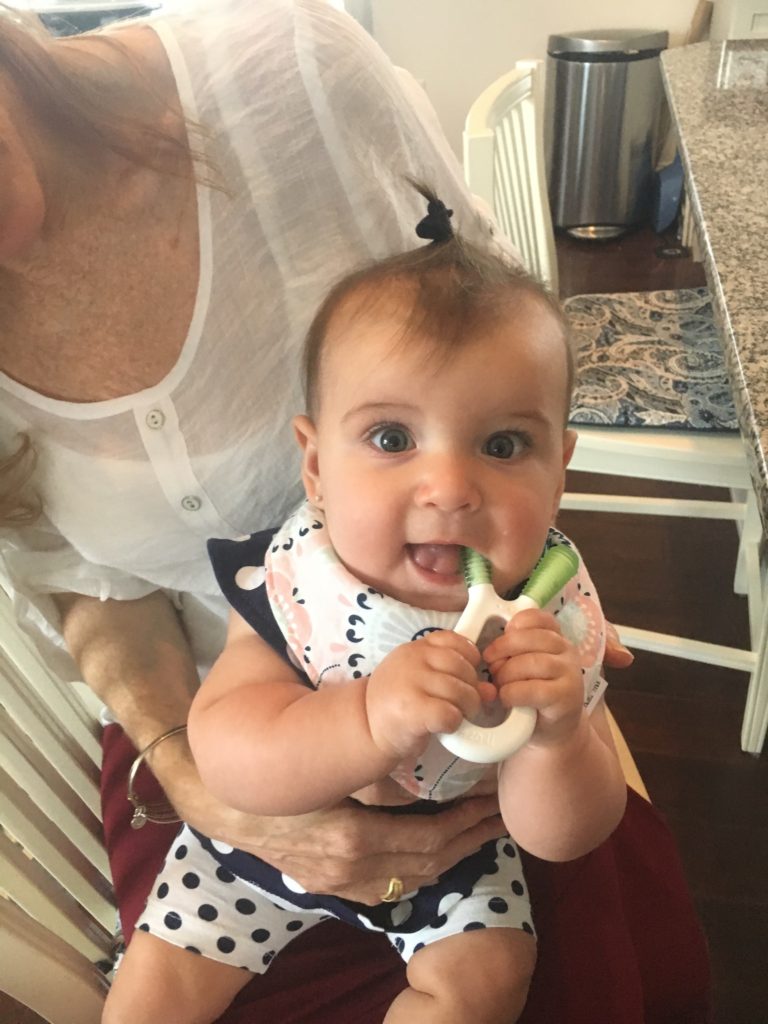 This past month was a busy one! We traveled to Connecticut where you had your first stay in a hotel,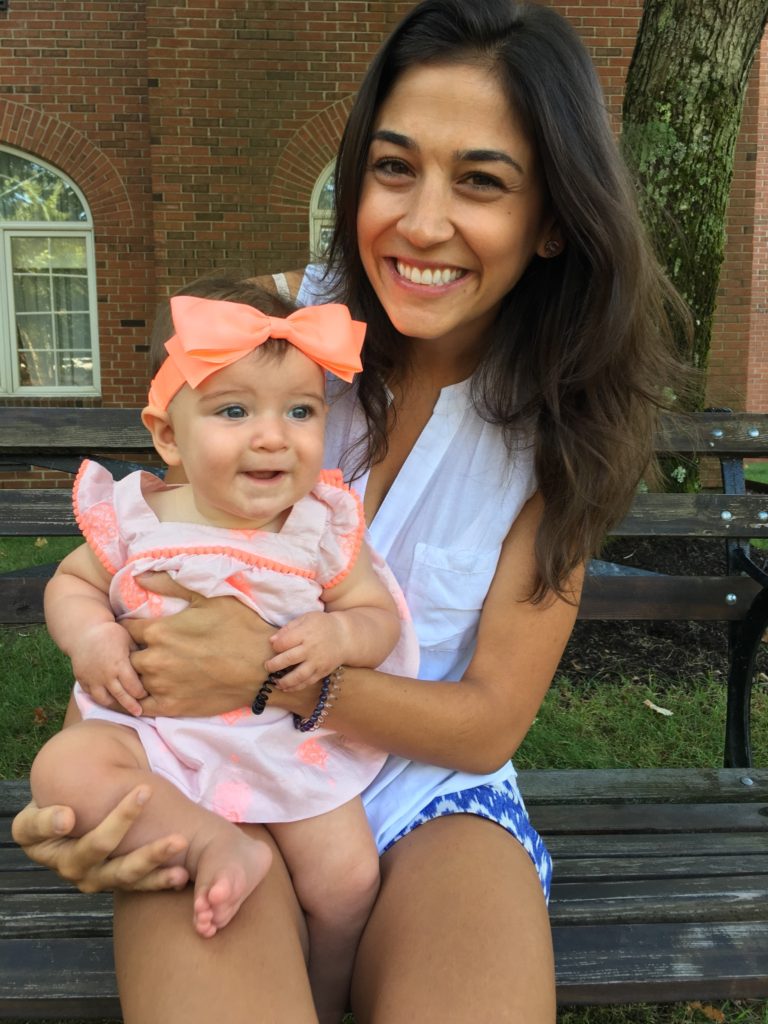 you and your cousin, Avery, got your ears pierced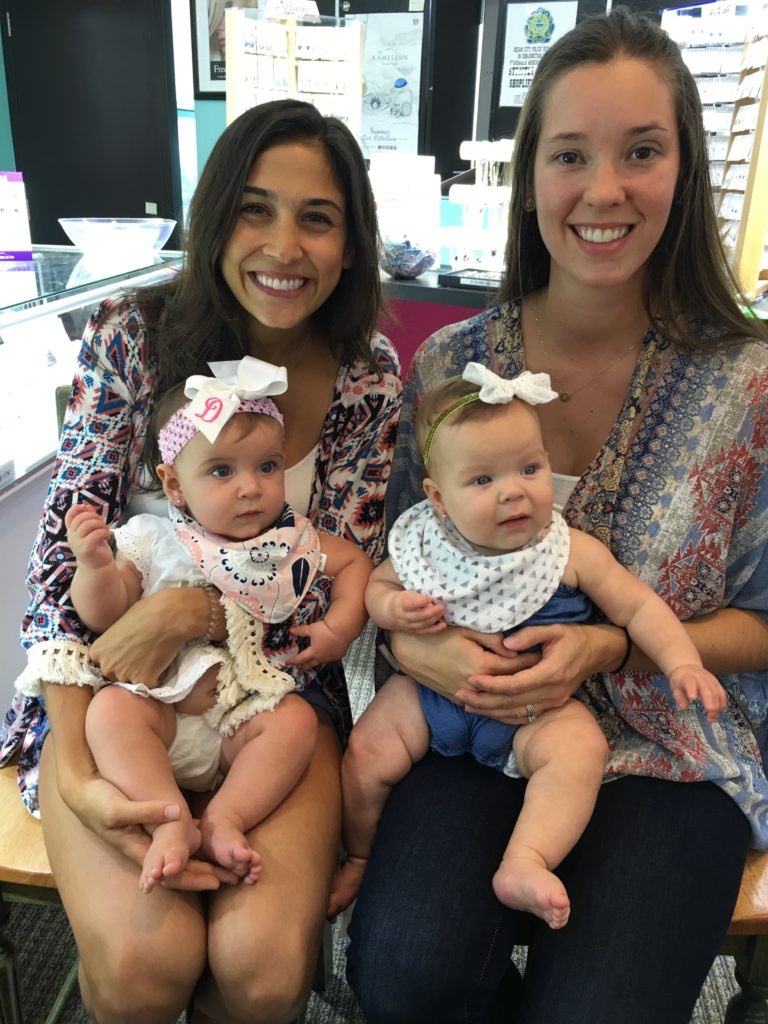 and we spent a weak at Sandbridge in Virginia with your Seldon family.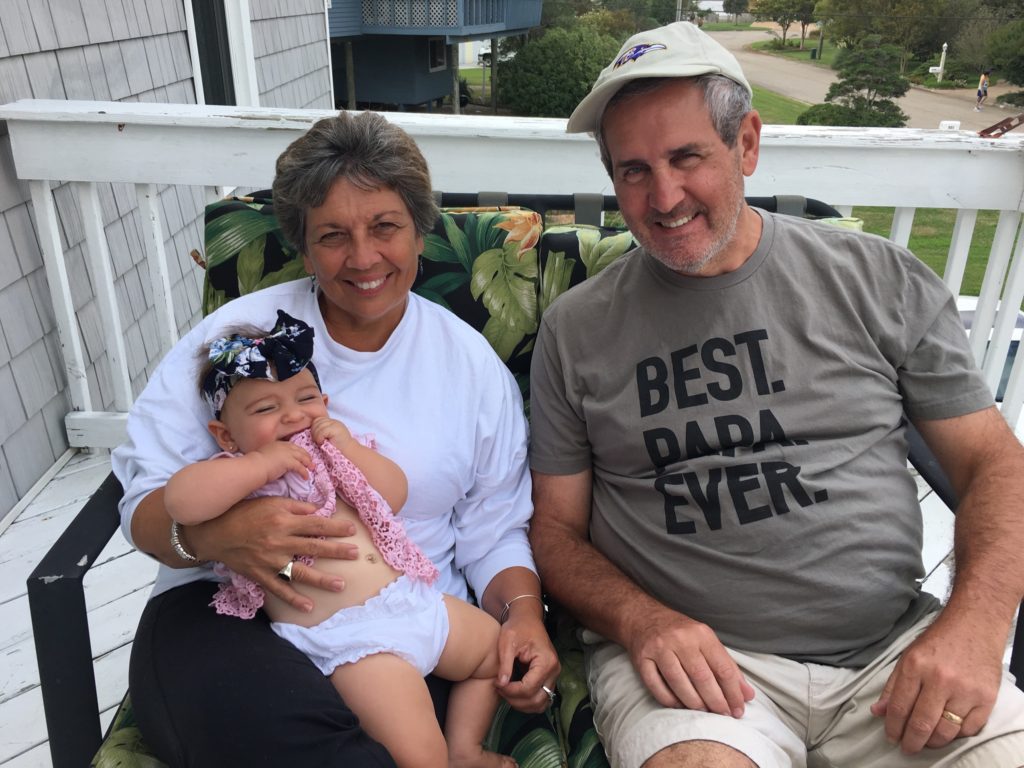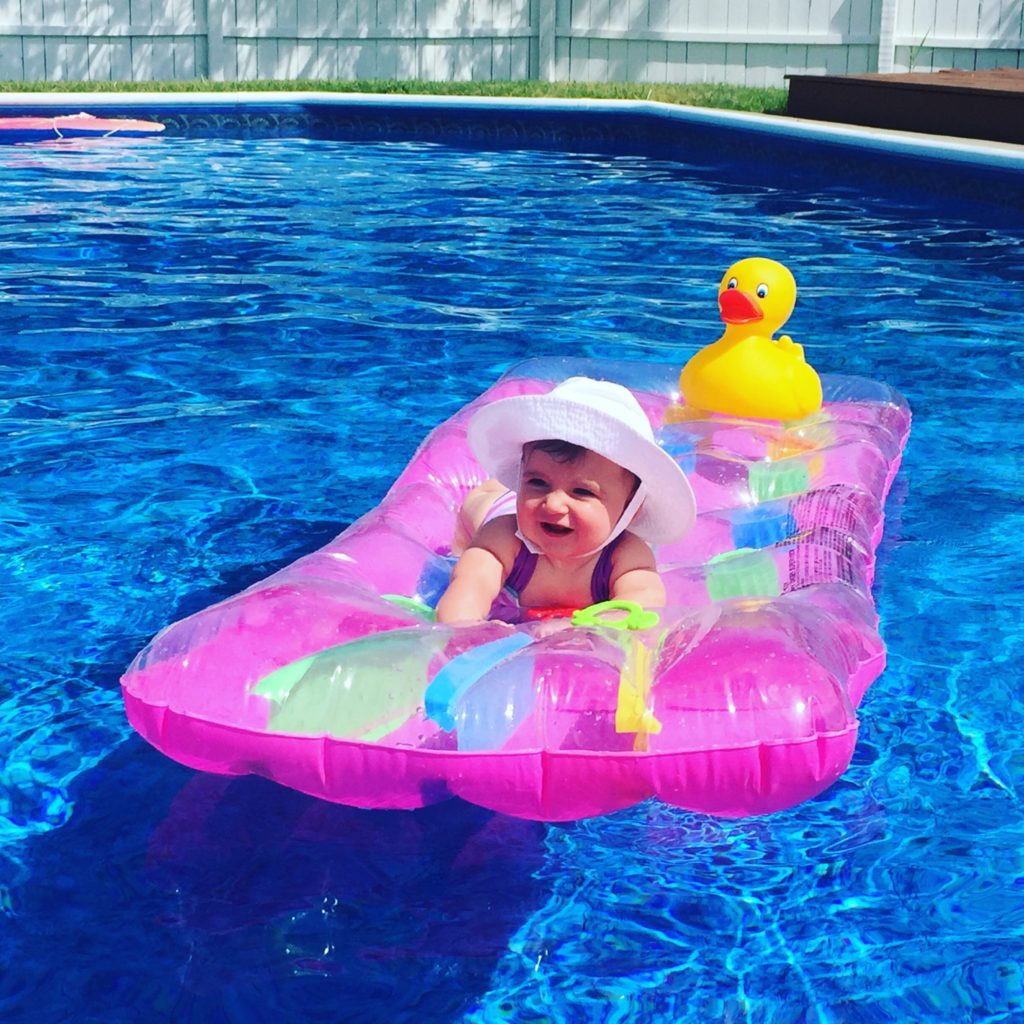 As for me, still working to heal this little belly of mine. Still working with a PT and taking lots of rest days this month. Not only to heal, but I have just felt more tired than normal and a bit more achy/sore – especially in my hips and low back. Taking the invitation to slow down, incorporate more yoga and relaxation techniques. Getting back into work mode + breastfeeding + this Mommin' thing is hard work! But giiiiirl, do I love ever second of it!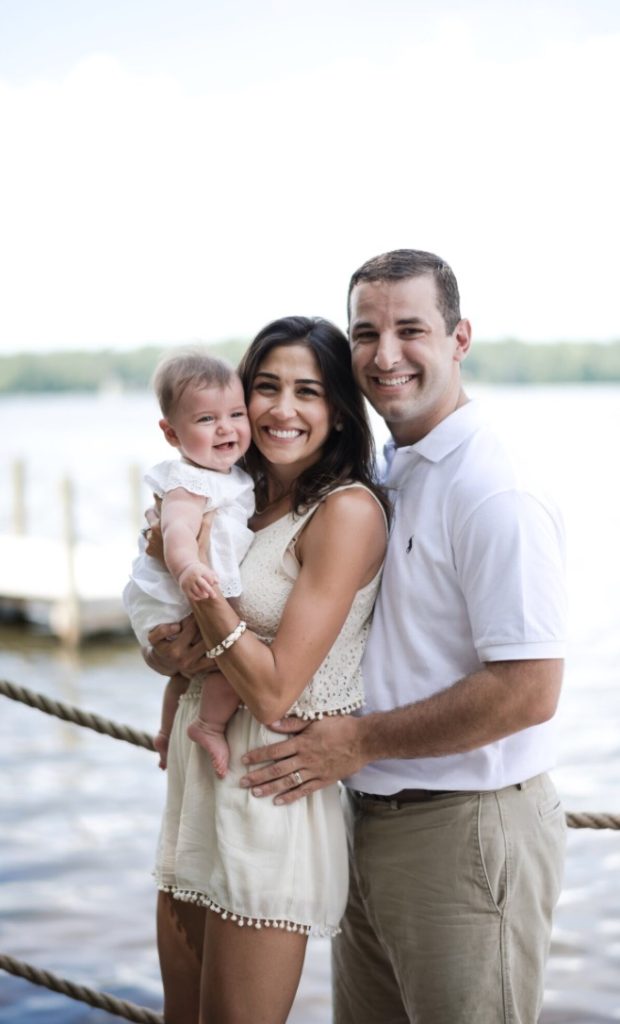 I have a feeling within the next two months, we will have a crawler on our hands and a full blown eater! Excited to experience all these crazy fun milestones with ya, LaneyBug! Thank you for being my sunshine each and everyday! We love you!
Likes:
-Sitting up like a big girl and playing with all your toys
-Looking at yourself in the mirror
-Sleeping on your belly with your butt in the air (super cute)
-Standing up (supported, of course)
-Eating at the table with Mommy and Daddy
-Taking baths in the sink – you have your own little shower and love to feel the water on your hands
-Being outside and anywhere new!
-Petting things or touching new fabrics
Dislikes:
-The Vitamix, Vacuum or hair dryer – LOUD NOISES!
-Being hungry or over tired.
-When I walk out of the room, especially if you are hungry
-Getting dressed. You really don't like to bend your arms
6 month favorites:
Playtime:
-Crinkle books
–Noggin Stik
–Leap Frog Learn and Groove Activity Table – the legs come off, so that she can easily play with this on the floor while seated
-Anything she can gnaw on. Especially this ZoLi teether
–Little Willard Teething Necklace – not a play toy, but we but we put this on her when she is awake. Definitely helps with drool and I guess the teething!
Sleep & Eat:
–Halo Sleep Sac Wearable Blanket – wears this for each nap and at night time
-Box Fan + Cloud B Sleep Sheep – the moment these two things go on, she knows – it's time to hit the sheets!
–Ikea Antilop Highchair + the Pyttig support pillow – this thing costs $30 total and it's perfect! Not big and bulky. Serves it's purpose and is easy to clean!
-For me – my 40 oz Healthy Human water bottle. I don't know if it she's been going through a growth spurt, or if I have just felt extra wiped out – but water has been key!
-Bars and oatballs for quick snacks !
-Spoonful of coconut oil to boost milk supply!