23 Aug

The Delaney Diaries: 5 month check in!!

Happy Birthaversary, Laneygirl! You turned 5 months old this past Saturday and my oh my, what a month it has been! Another month of fun milestones, lots of growth and some fun memories. You still continue to be one wild and crazy little gal and I can already tell these next few months are going to be pretty exciting!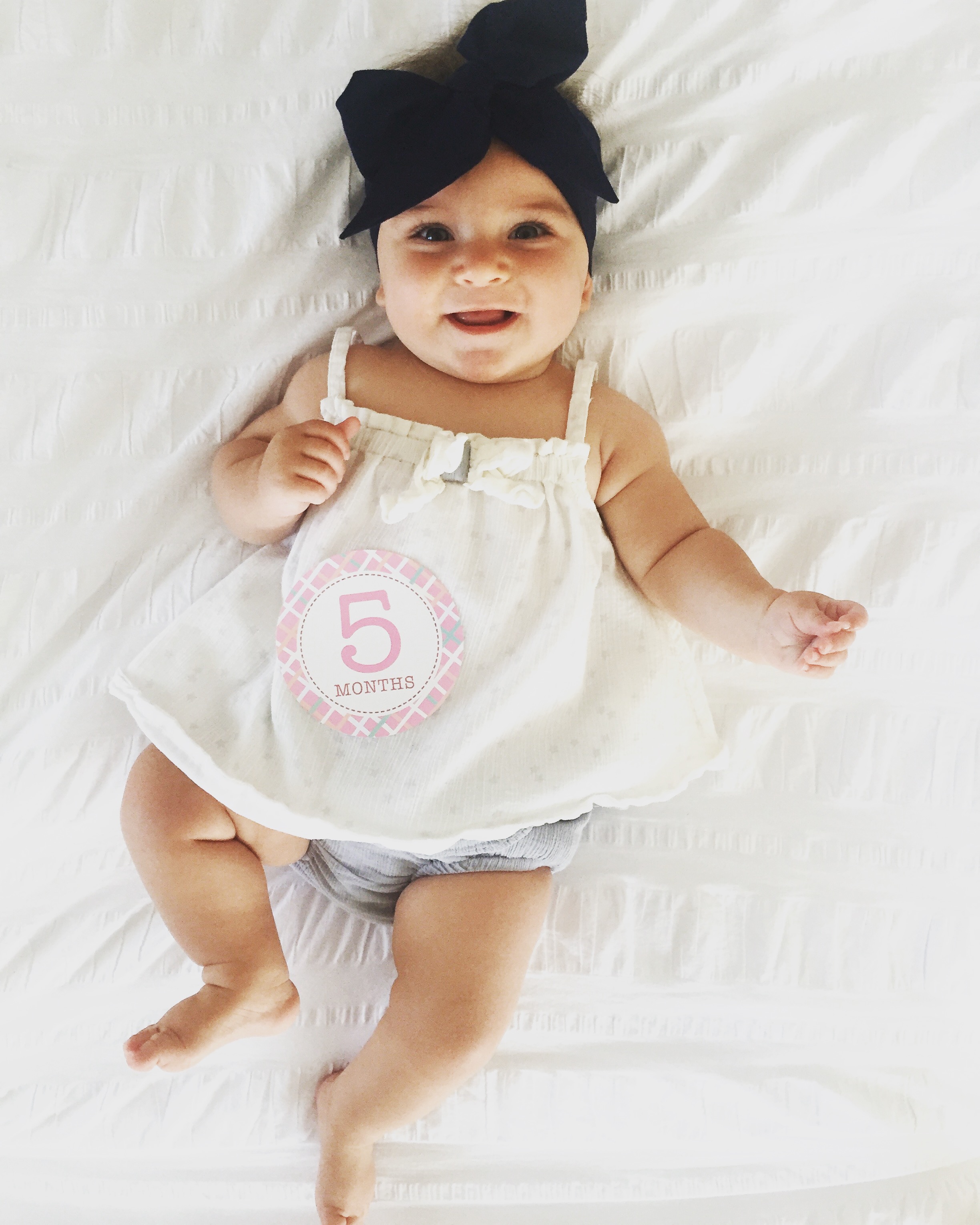 As always, each month keeps getting better and better. I actually asked Nonna (my mom) a few weeks ago, can you really love your next baby as much as your first. Of course, her answer was ABSOLUTELY and me being the third kid was excited to hear that – But my gosh, I have never felt or been so aware of love in my life! Every morning I get you from your crib and you flash that big gummy smile that seems to take over your whole body. Each high pitched little scream that you let out in sheer excitement. The evenings when I come home from work and Daddy is sitting with you on the front porch just chatting about the birds and flowers – waiting for our bedtime routine. And of course those night time feedings when I go to pick you up from your crib, give you a kiss on your cheek and you nestle into my neck gripping so tightly. These are the moments that seriously melt your Daddy and I.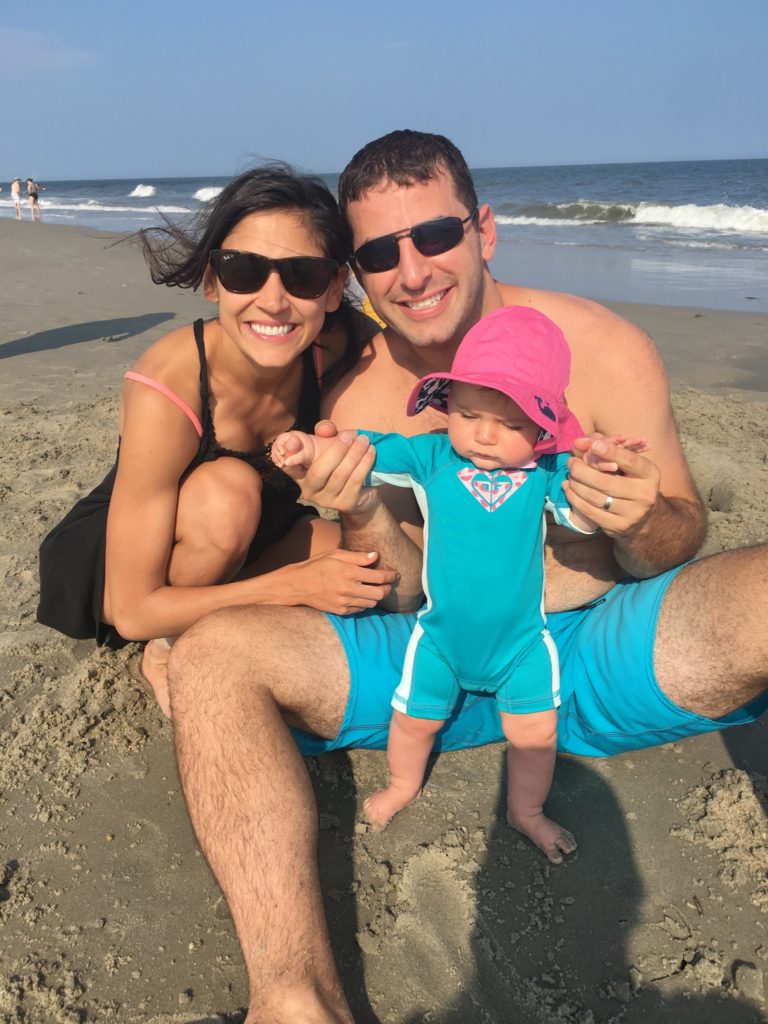 There has honestly not been a day that we haven't said to each other , "she's so amazing". "How did we get so lucky?" We are completely and utterly enamored by you and now I see why it's so hard for parents to say no to their children.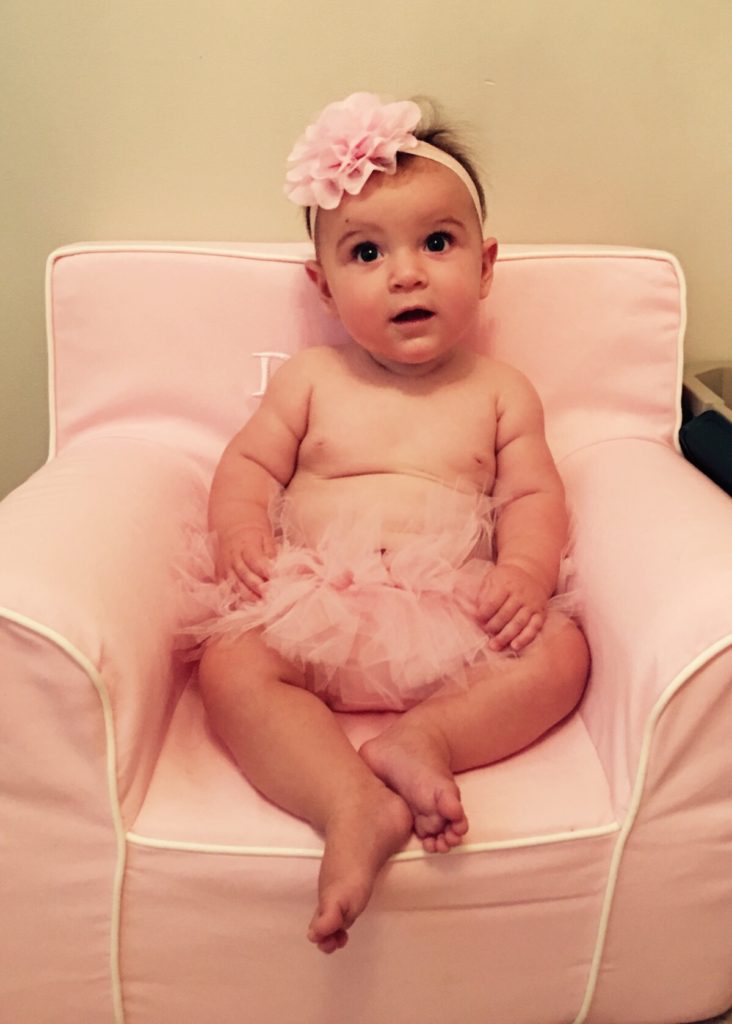 Everyone always comments on how alert and observant you are. You love to sit up, look around and you seem to get super fixated on things – like you're trying to figure out what the heck is going on. Which I assume that's what is going on inside your head. You are so excitable – the moment you see a new toy or we place you on your playmate you instantly start kicking, flailing your arms and your eyes get really big. It's almost like you can't contain yourself and it's so funny to watch.
This month you've really made some major motor developments! You are so enthralled by your new found hands and feet. You're now able to reach out and grab things, shake a rattle and when we place you on your belly and put something out in front of you – you are really fixen' to reach out and grab it!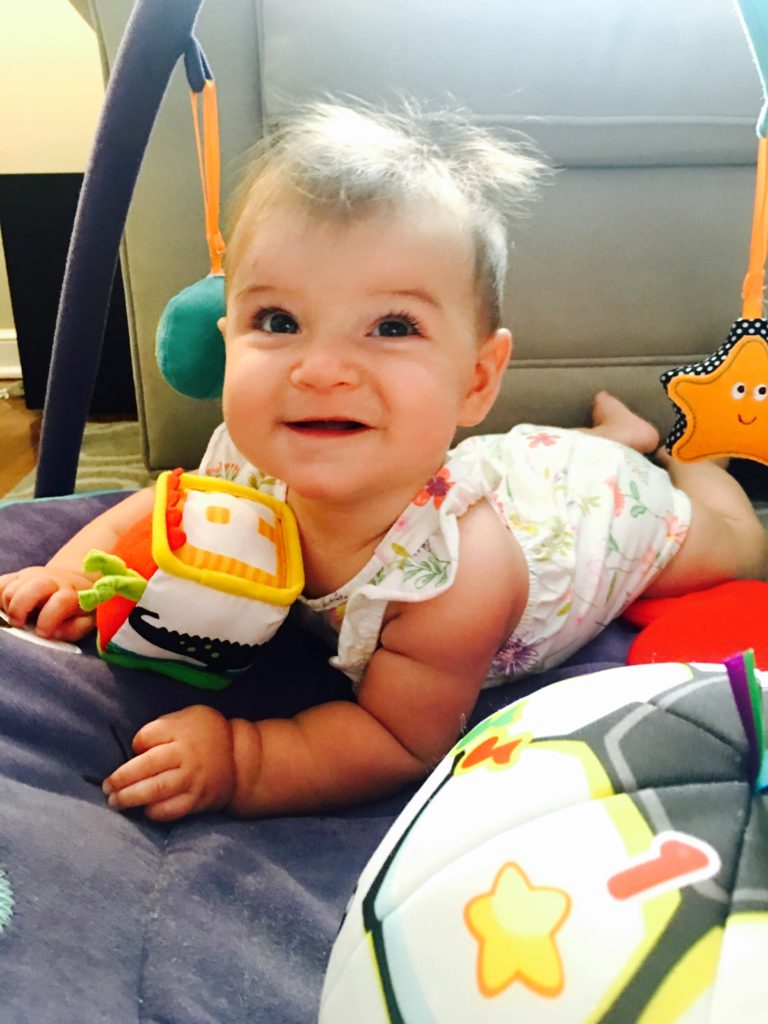 Mr. Wubbanub is kind of old news since you have found your beloved thumb (and your big toe) which you love to suck on and even stick up your nose! Daddy has been trying to train you to suck your thumb since day one and it seems that it has finally paid off – which makes for a much smoother night time soothing mechanism! Piggybacking on being a thumb, big toe, finger sucker – you have started to exhibit some of the beginning stages of teething. Nothing popping through quite yet, but girl you are quite the drool monster and you LOVE to put whatever you can into your mouth!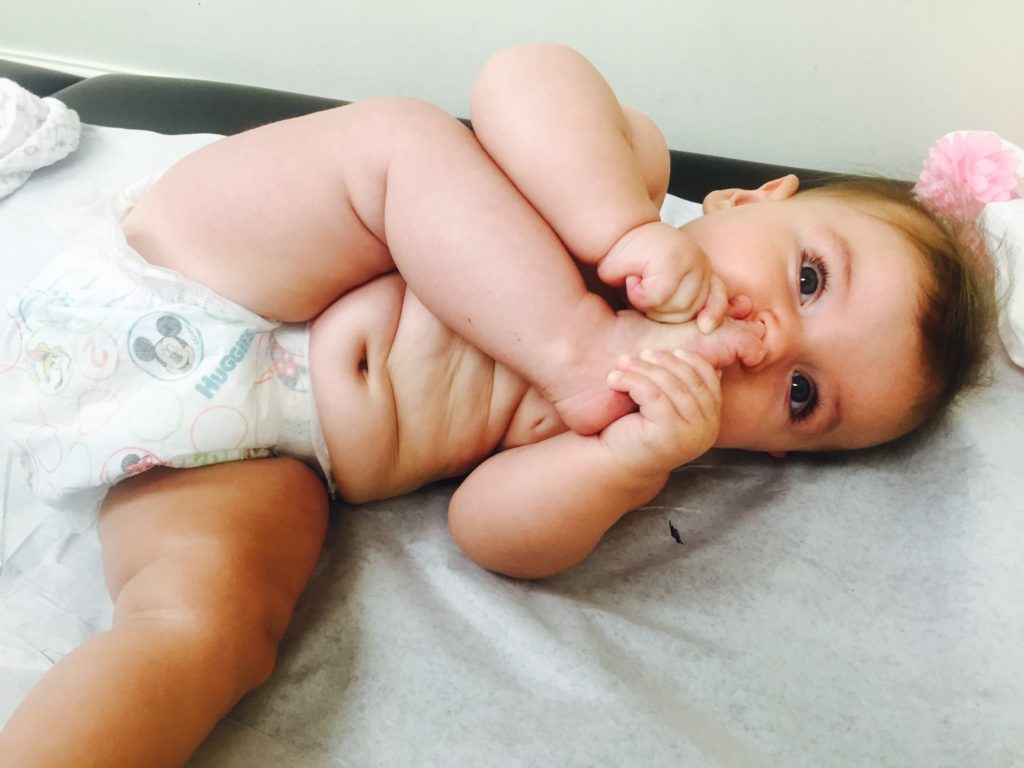 And of course, you are now a rolling machine! Back to front, front to back. You love to use your legs to kick yourself off things and jump up and down on our laps. We bought a doorway jumper that you now love and you are so proud of yourself each time you stomp your feet and spin around. Letting out high pitched screams and the biggest smile. It's simply the best.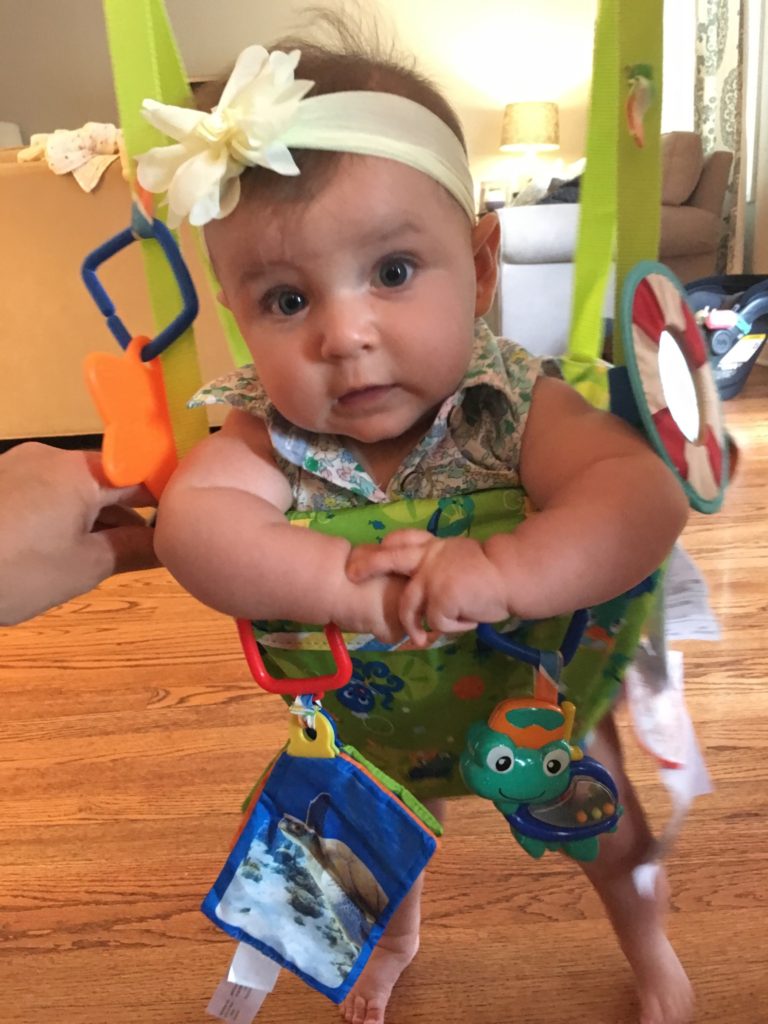 You still continue to be a pretty darn good sleeper. I'd say that the majority of nights this month you've slept from 7:30pm to 6:30am. Every now and then you will wake up around 2am, feed and then head right back to sleep. Not sure if you are actually hungry, just want to see my face or you're going through a little growth spurt, but how can ya ever tell? i guess at some point we will have to give up these night time feedings, but for now it just seems much easier to feed you for 10 minutes and be done. Other moms, am I heading down a slippery slope? You're a great sleeper otherwise and I can't complain, so if ya want to boob at 2am, you can have it. For now. 🙂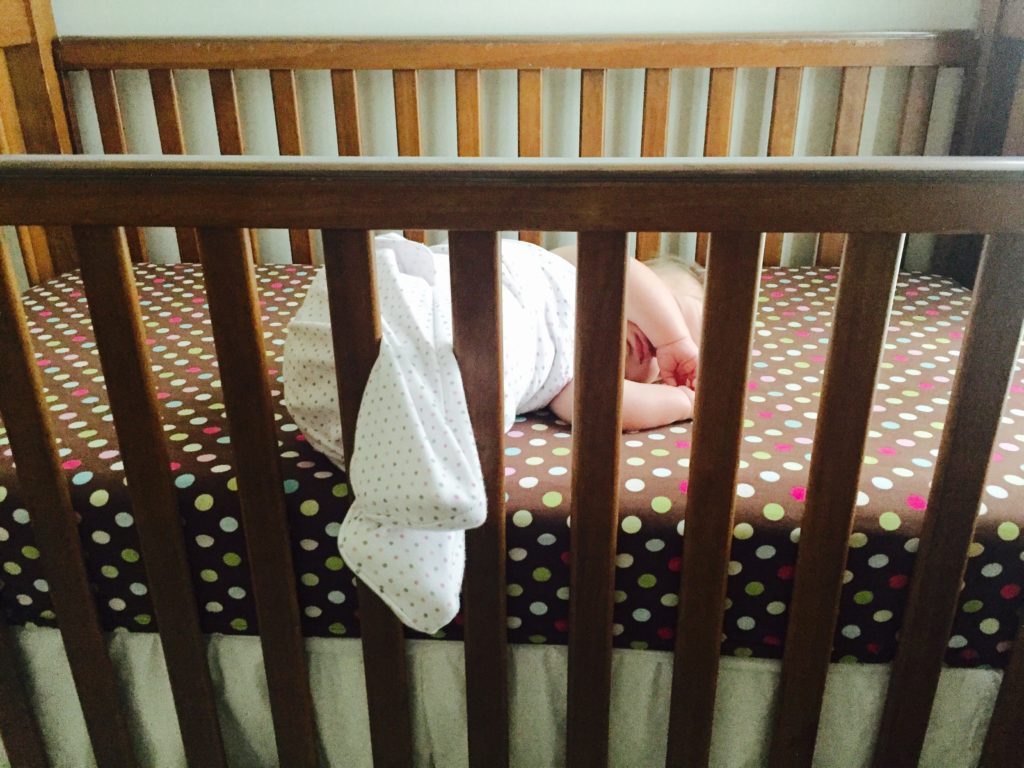 (I mean, seriously?)
I do have to say you're a WILD sleeper – making your way around every inch of the crib – sleeping on your belly now which is too cute and typically ending up with your face in the corner.
As for naps and a day time schedule, we're doing pretty well! We got away from swaddling you when you were able to roll over, but this month we started using a sleep sack and it has worked wonders for your nap time routine. I wasn't able to swaddle you as well as Daddy and with him being at work during the day – you seemed to take super long naps for him when he was home, but little puny ones for me! Nonna suggested the sleep sack, incase you were getting cold during the day without your footie pajamas and low and behold, it worked! You're taking a good morning nap for about 1-2 hours, a nice long 2-3 hour one in the afternoon, and then typically a nice little snooze before bedtime around 5 o'clock. I'd say this is the first month we've been able to have a bit more predictability with your schedule, but it still isn't always perfect. Ya hear that, other moms? It took 5 months to get on some sort of a "routine" and here I was trying to find a pattern at 3 weeks old. HA!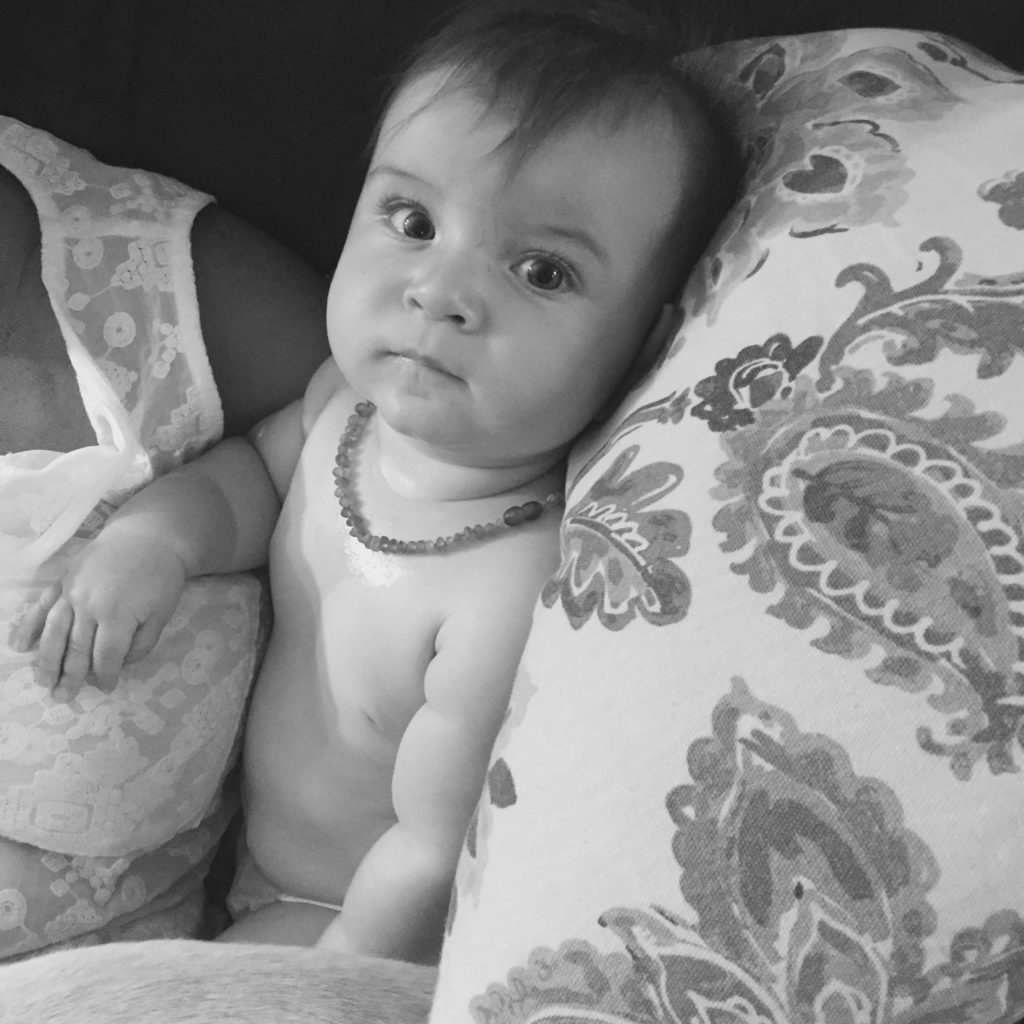 As for feeding, lets just say you don't miss a meal, my friend. You're growing like a weed and you're in the 99% for length and 75th% for weight. You had your 4 month doctors appointment a few weeks ago, and other that a few pesky shots, we are still working on your head rotation to the left. We've been very conscious of standing on our left side,  placing you on the changing table differently and making sure to do our mini neck stretching sessions.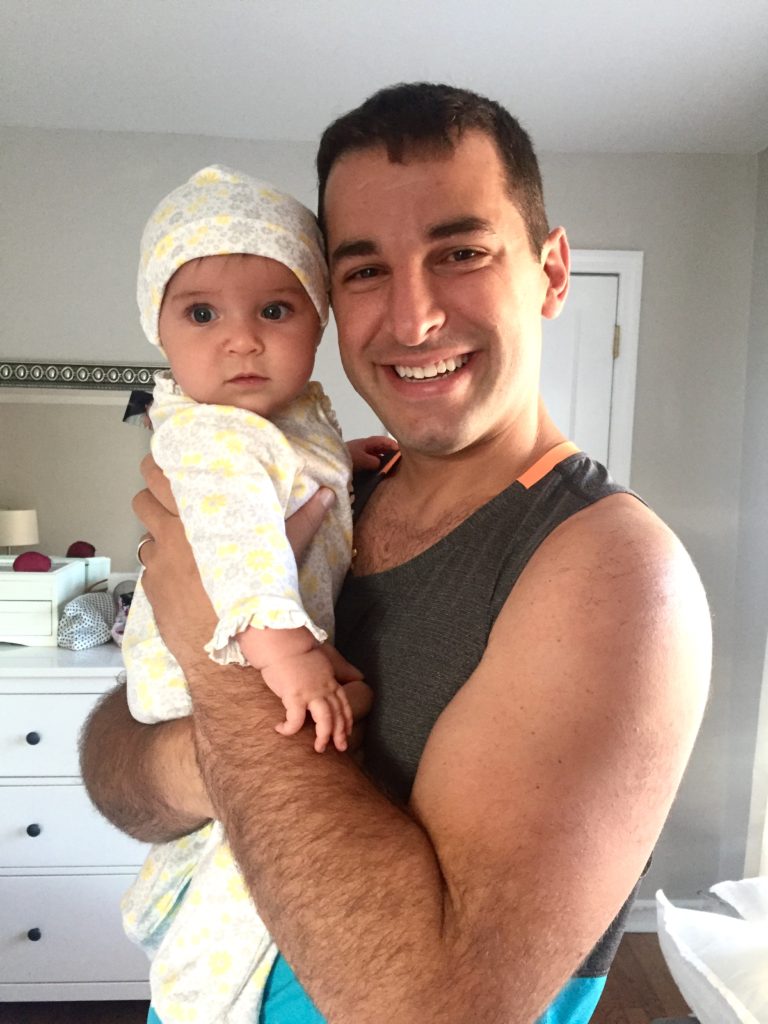 And as for Dad and I? We couldn't be better. Like I said before, not a day goes by that we don't talk about how incredibly lucky we are to be your parents and how much you've changed our lives – for the absolute BETTER!! My favorite moments are the early mornings in bed, when you snuggle between us, kicking your feet and joyfully cooing! I find myself wishing that time would stop right then and there, because in those moments, nothing else matters. We can't seem to get enough kisses in each day and it has been so amazing seeing your Daddy with you. To see how much love and joy you bring him is like nothing I have seen before and it gives me all the feels!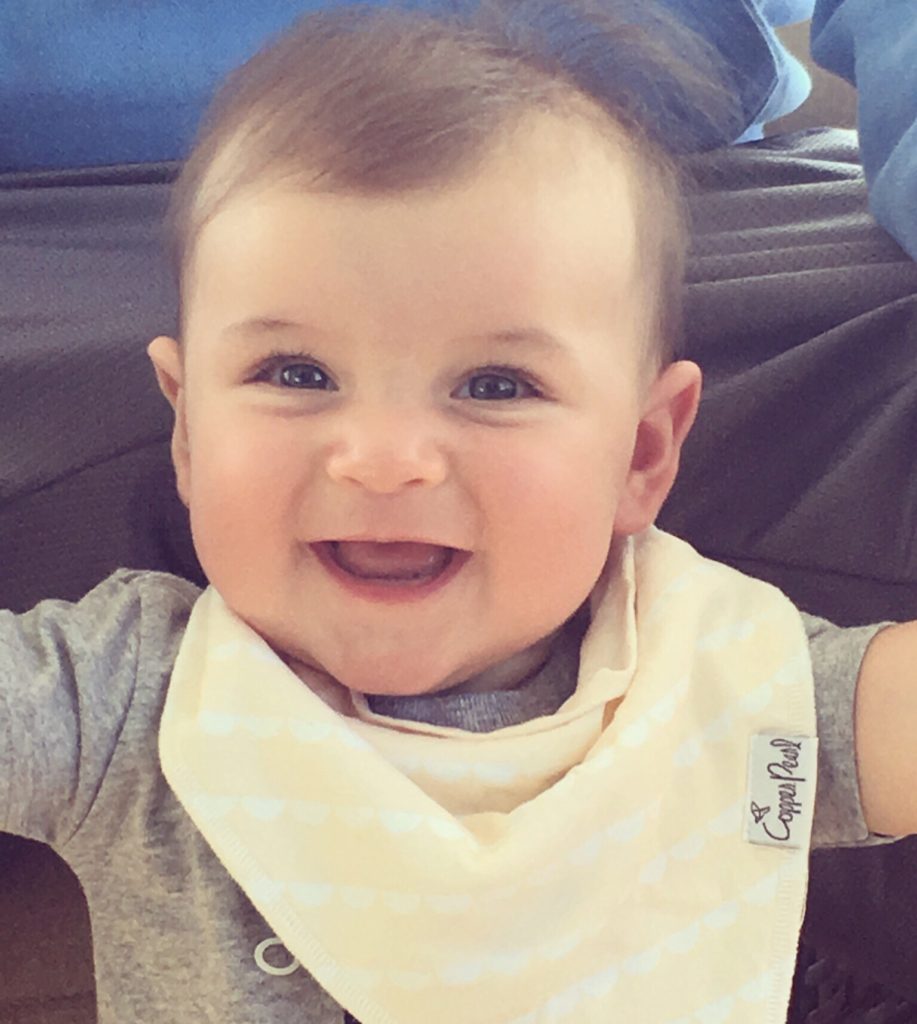 As far as how I am feeling physically – I'm getting there! Like I mentioned before, I had a minor hiccup when I started to develop diastasis recti about two months AFTER delivery.  I am fairly certain this developed or was exacerbated a few months after due to a variety of factors and I am now seeing a Physical Therapist to help put me back together. It has been a bit discouraging, because I tried to do everything "right", but some things ya just can't control! Not your fault, little one. 🙂 I have found it challenging to FEEL back to my old self (most days), but also realize there is still some healing to be done.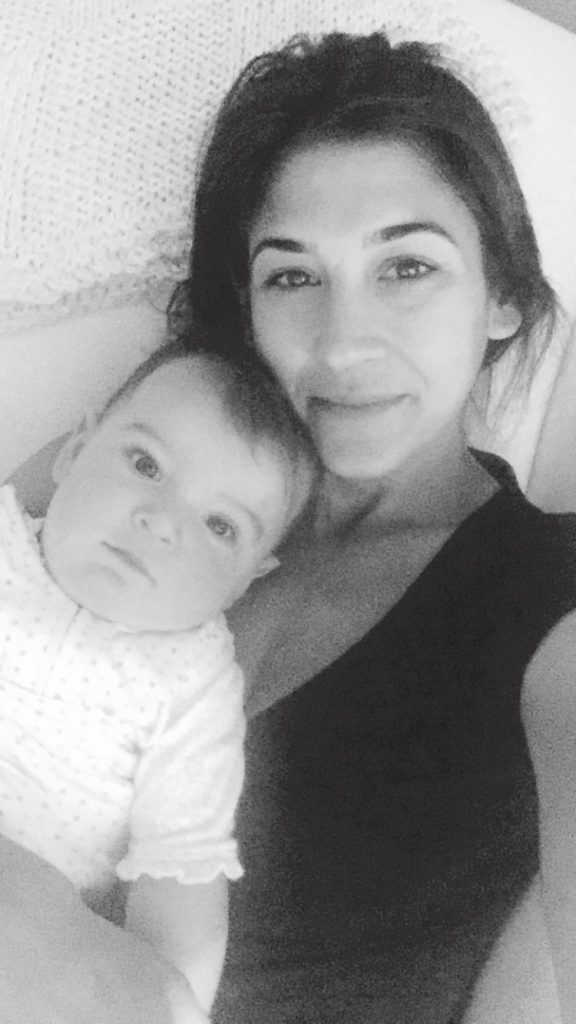 And mentally, everyday is different. Most days I think I am so overwhelmed with love and the thought of being a new mommy I don't realize how much new stuff is happening. I feel as though I haven't given myself (like most moms) enough credit for the past 5 months. Not to mention the 9 months before of true body transformation AND the year and half before that of mentally and physically trying to get pregnant.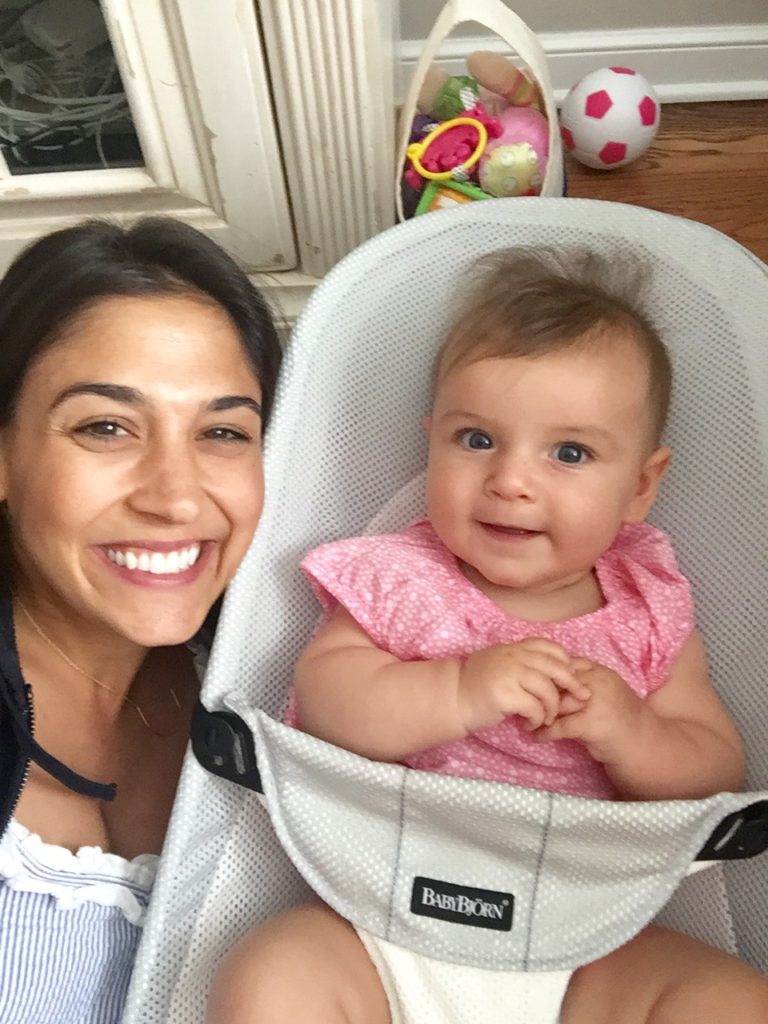 I mean geesh, my body built and carried you for 9 months. We brought a human (that's you!) into our simple little world. And even though the transition couldn't have been smoother, our world has been flipped upside down! Yes, we are doing great, but we don't take enough time to sit back and realize – wow! This is a big deal. And this means we have to be patient. Patient with each other in our relationship. Dad and I in ours. Patient with my relationship with my body and also with my career.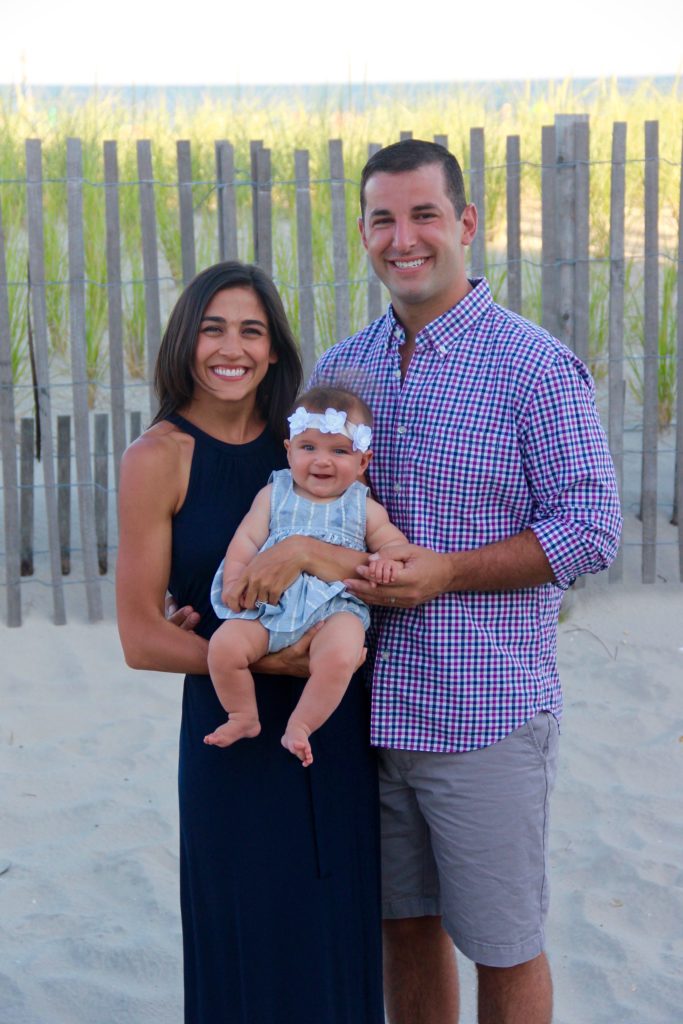 The most important thing for us right now is to be your loving parents and to be present with you, because my goodness, time flies when you're having so much fun!
We love to the moon, our sweet girl! Thank you for being the most amazing thing in our lives! Xox, Yo Momma
Some fun memories this month:
-Daddy took you in the ocean for the first time. Lets just say the look of sheer panic swept over your face and then…you screamed so loud the whole beach heard you. Poor thing.  Dad convinced me to take you back in the next day and surprisingly, you loved it.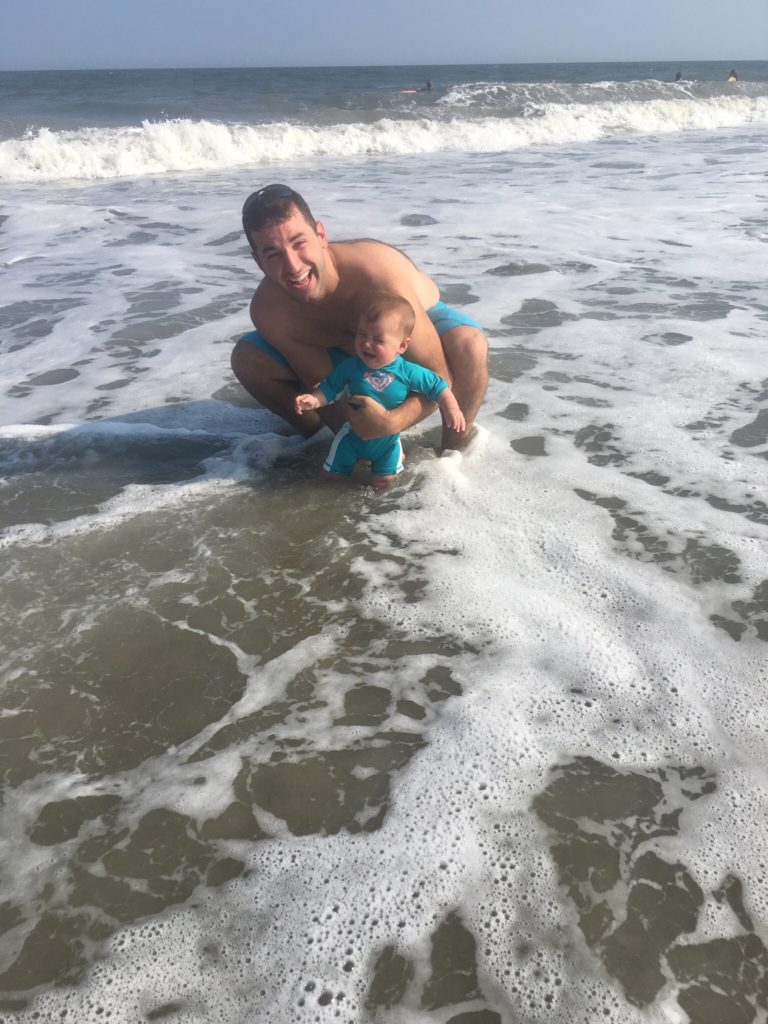 – You and I took our first road trip to Virginia ALONE to celebrate Nonna's birthday. 6 hours on I-95 and we survived. Luckily, you slept most of the time, but when you woke up, you were HANGRY, and of course, we were always in traffic. But a couple feeding stops, pumping sessions and some potty breaks later – we made it! The things you do when you're in these situations are pretty darn hilarious. You did not appreciate being shoved into the McDonalds bathroom stall with me or all the loud flushes and hand dryers at the rest stops.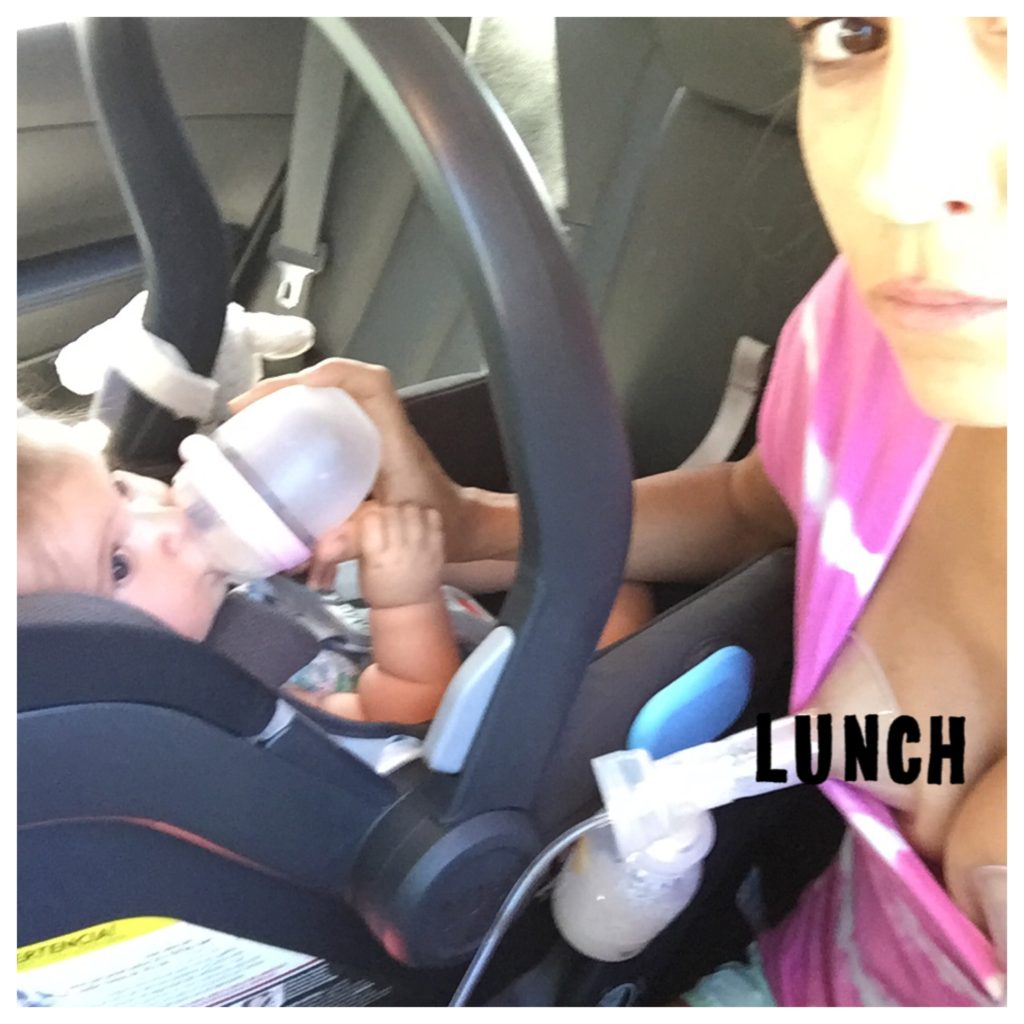 -You had your first all day and over night alone with Dada when I visited friends in NYC and y'all did GREAT
-And we set you up with a new play area in the living room. The time has come – I had to give up my neatly decorated house at some point 😉
Likes:
-Gnawing on fingers, shoulders, toys – just about anything!
-Standing upright and looking all around
-Pressing off our legs, the couch, anything really…
-Playing airplane (your smile is the BEST and then you drool on my face)
-Your feet, hands and fingers
-Grabbing my hair and anything else in view
-Being outside – listening to the birds, watching dogs, etc.
-Sleeping on your belly
Dislikes:
-A poopy diaper
-The initial carseat loading, but you're getting better!
-Being held like a baby
-Daddy's spikey beard
5 month Favorites:

Playtime:
–Cloud B Bunny (My Aunt and Uncle got this for her and she's obsessed. It's almost bigger than her and it's so cute to watch her cuddle with it. This bunny just might be her "thing")
–OBall
–ZoLi Bunny Dual Nub Teether (easy for her to hold and she really gets after it)
–Baby Einstein Sea and Discover Door Jumper (We only do this for about 15 minutes a day, but she enjoys it so much!)
–Baby Bjorn lounger (She loves to be in this while I am making dinner – we dance and sing together)
–UPPA stroller. We are so so happy with our choice of stroller. Delaney is now in the Rumble seat, which sits her more upright!
–Little Willard Amber teething necklace (We started putting this on her a few weeks ago during the day. Not sure if it's helping or not, but I am trying to combat any teething pain she might have, so why not!)
Sleep & Eat:
-Sleep machine & a box fan (a box fan is really all you need)
–Halo Sleep Sack Wearable Blanket
–Baby-Led Weaning Book (reading up & getting ready!)
-Extra Breast Pump Accessories. Cones, bottles, bags to pump into. Do yourself and get these early, so you don't have to constantly wash things for each pumping session. For some reason I would dread each session, because a lot of the times I wouldn't have equipment ready or would find myself running out the house unprepared to take my pump with me!
–Bralets. Lots of bralets. so comfy and makes nursing sessions much easier!
–Medela Battery Pack for pump. Had to get one of these when we went to Seattle. Since I am working more now and summer travel, I definitely need the battery pack or car adaptor to pump in the car between sessions/classes. #momlife.