28 Jan

Simple Chili Recipe & How I Turned it into A Salad

Wow. It has almost been a full year since I blogged. So many days I berated myself for not keeping up with posting. For failing at keeping this space active. For not being inspired to live out my passion and deliver helpful content. Every week it it was on my "to – do list" and every week I never checked the "completed" box.

One of my goals of 2018 was to open this space up again. To use it as a platform to yes, get information to y'all, but to also use it when I feel compelled. And not get mad at myself when it doesn't work out. So here I am, ready to provide you with some fun stuff – between here and Instagram – lets do this!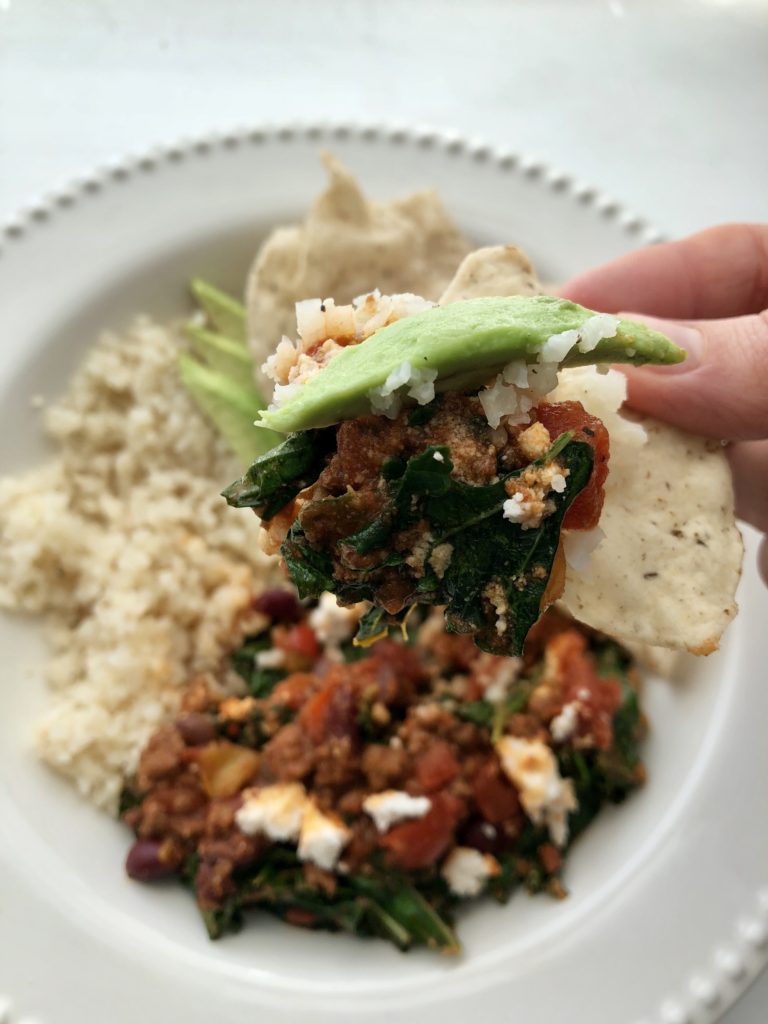 Now that I am all caught up and cleansed of my sins 🙂 Lets talk about a simple recipe that is perfect for this time of year! CHILI! It's nothing crazy. Uses simple ingredients and the active prep time is less than 30 minutes! I repurposed it days after and am even calling it a salad, because it involved kale and kale = salad.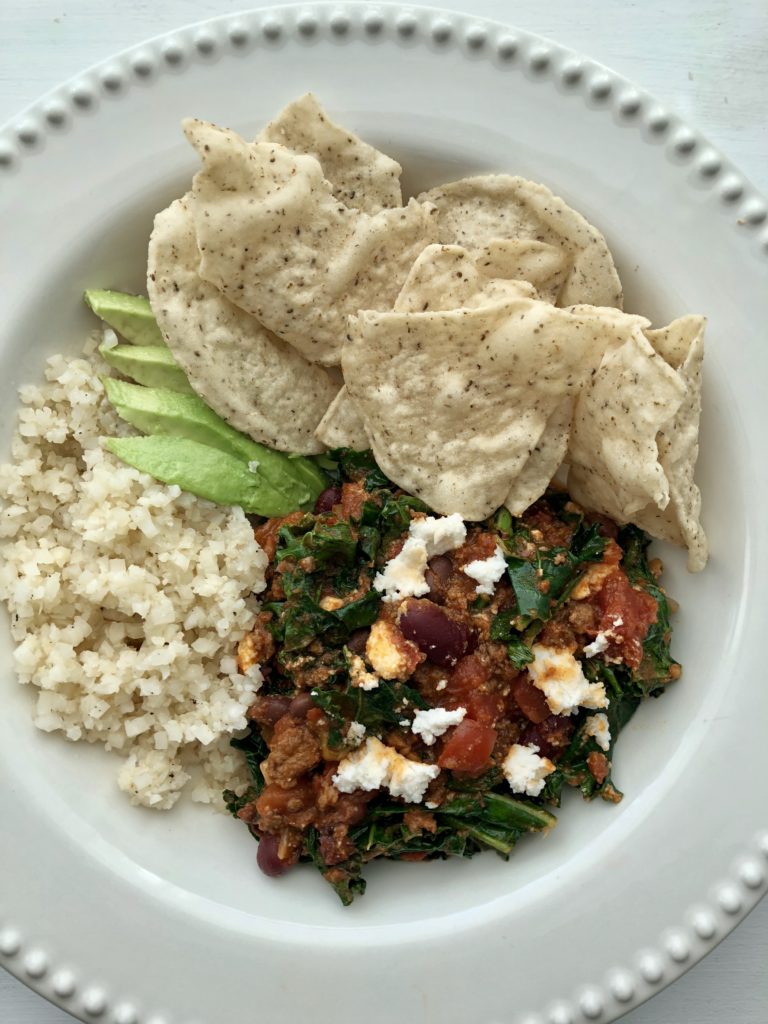 Simple Beef Chili Recipe:
Ingredients:
2 tbsp avocado oil
1 yellow onion, finely chopped
2-3 red, yellow or orange bell peppers, deseeded & finely chopped
2 tbsp chili powder
1 tbsp cumin
1 tsp paprika
1/2 tsp cayenne pepper
1/2 – 1 tsp cinnamon
1 tsp salt
2-3 cloves or garlic
1lb GRASS FED BEEF. Yes, grass-fed beef is a couple dollars more, but guys…it's worth it. Spend the extra money, so you aren't putting crap into your body. Plus it tastes better too! (15oz) can organic black beans, rinsed and drained
1 (15oz) can organic kidney beans, rinsed and drained
2 (28oz) cans crushed tomatoes
Directions:
1. Heat oil in a large dutch oven over medium heat. Add the onions, peppers and spices. Cook until vegetables are soft – about 7 minutes. Stir in garlic and cook for another 30 seconds.
2. Add the beef and increase the heat to medium-high. Brown and breakup the beef with a wooden spoon – amount 10 minutes. Stir in the beans and tomatoes with juice. Bring to a boil, then reduce heat to a slow simmer. Cover and cook for 45 minutes.
3. Uncover and continue to let flavors develop for another 30 – 45 minutes. Season with salt and peppers and top with whatever your heart desires – shredded cheddar cheese, greek yogurt, sour cream, chives , etc.
4. To add some greens – Simply sauté kale with salt and pepper over medium heat. Assemble by placing greens into the bottom of the bowl and spooning chili on top. I served mine along side riced cauliflower and with Siete Grain Free Tortilla Chips for scooping. Duh.
Chili can be refrigerated in an air tight container for 4 days and also does well frozen. Let completely thaw in fridge before reheating!