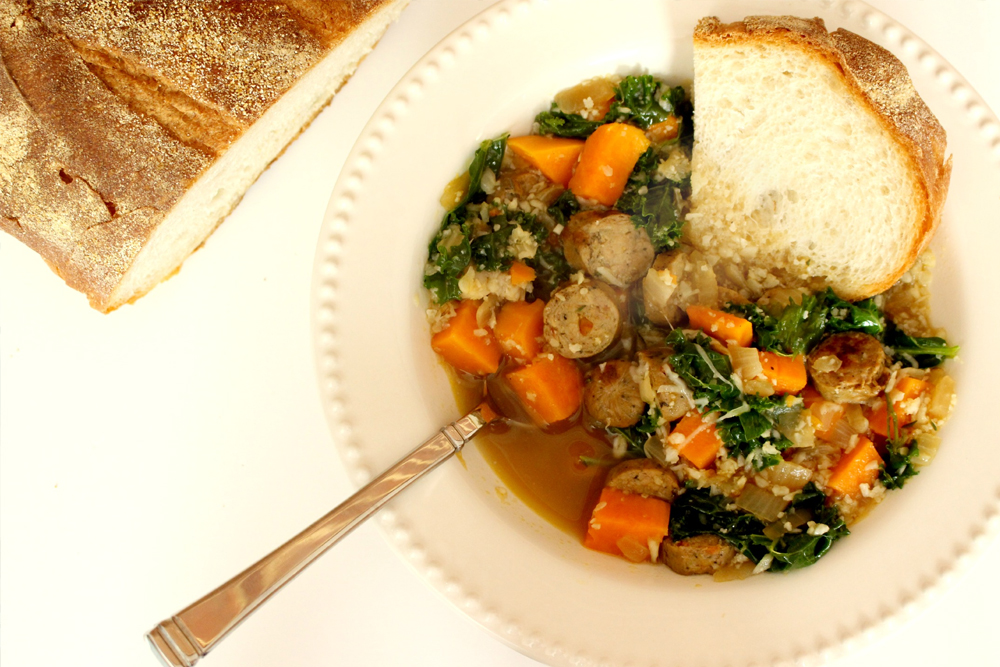 15 Jan

Sausage, Kale, and Sweet Potato Soup!

Snowmegeddon? More like, Snowgotnothin'. Get it? Yeah..Storm Juno did not make its way down to Delaware like predicted. It's not like we were supposed to get a lot, but the forecast was calling for just enough to keep us housebound for at least the morning. Remember, even 3 inches is potential for school and work delays/closures around here. I guess it's a good thing, since those northerners are really getting pounded. But it's definitely the worst when you get all excited about a potential day off and being stuck inside with a reason to stay in your pjs for the day. Especially when all your morning clients have already cancelled due to the impending doom, only to wake up, look outside and realize there is close to nothing on the ground. Your whole well thought out plan for the perfect snow day is completely thrown out the window. Sitting on the couch when there is absolutely nothing keeping you inside. When the sun is actually shining outside. Just doesn't fly or seem as appealing for some reason. Boo.
I believe LFO – "Summer girls" is my anthem. For many reasons, but mainly because I hate the cold. If I had it my way, I'd be living it up in Charleston, SC during the hottest humid summers, sweating my face off, and loving every second of it. Unfortunately, my husfriend is sweating when it's 60 degrees out, so that's out of the cards until we buy our winter home there. In my next life.
So instead of sitting on the couch with hot chocolate as planned, I decided to get working on some soup recipes.  If you know me, you know I love anything in a bowl. Cereal, ice cream, smoothies, salads, everything. Brian knows to put my dinners in a bowl, even if his is going on a plate. It just seems more comforting that way. And apparently I'm a messy eater and food starts to fly off plate when I use and knife and fork. You see, the bowl gives you nice confined space to work with. Using the sides for help. So naturally, 20 degree temps + bowl = soup!
This sausage, kale, and sweet potato soup is just perfect. It's colorful, flavorful, nutrient packed, and has a secret ingredient. Actually make that two. I knew I didn't want to add a bean or pasta to this dish, so I originally planned to make the soup without anything else. Right before I added the kale, I remembered I had cauliflower in the fridge. First, I thought about just adding the florets, but decided to try ricing the cauliflower to give the feel of a pasta or rice addition. It was perfect! It "beefed" up the broth, plus gave the extra added nutrients – namely Vitamins C & K – that cauli brings to the mix! Comforting soup and a healthy dose of anti-oxidants/anti-inflammatories. Um…Yes, please.
Go on and give it a try! The sausage makes it manly, so even your man friend's will be able to look past the kale for this one. Oh yeah, and the second secret ingredient. Bacon. Fahgettaboudit.
Sausage, Kale, and Sweet Potato Soup
Serves 4
Ingredients
1 tablespoon olive oil
1 yellow onion, diced
2 cloves of garlic, minced
salt and pepper
2-3 slices bacon, cut into small pieces or ask butcher to cut into thick chunks (optional)
1 pound chicken sausage, or whatever you prefer, casings removed
1-2 sweet potatoes, peeled and diced
4 cups chicken broth
2 cups water
1 tsp fresh sage
1 tsp fresh thyme
3-4 cups kale, stems removed and leaves chopped up
1 medium head of cauliflower
parmesan cheese for serving (Optional)
Instructions
Heat oil over medium heat, in a large pot.
Add onion and garlic and cook until softened, about 6 minutes; season with salt and pepper.
Add bacon (if using) and cook for about 3 minutes, then add sausage and cook for another 6 until browned; breaking up meat with a wooden spoon.
Add broth, water, sweet potatoes, sage, and thyme. Bring to a boil.
Meanwhile, rice cauliflower in a food processor or Vitamix. I did this in 3 parts. It's easier if the processor isn't full to the top.
Once boiling, reduce to a simmer, and add kale and cauliflower.
Simmer briefly until kale is wilted, then reduce to low or remove from heat so the cauliflower stays intact.
Top with parmesan cheese and serve with some crusty bread!
Enjoy!
Notes
**You don't have to add bacon. This is mainly for flavor, but as we all know, bacon makes everything better.
**If you're using a food processor or Vitamix, be sure not to turn it all the way to full power. This will completely mash the cauliflower. For this, we want to just chop it into small "rice" bits.
**You can also grate the cauliflower by hand.