29 Feb

Preggo Update! Week 35-36

Hello Hello! Happy Monday! Hope y'all had a great weekend. We are busy/not so busy with relaxing & baby prep. Spending our last few weekends pre-baby at home and with friends. Each day it gets more and more real that our lives are really about to CHANGE. I know they're going to change in the most amazing way possible, but boy, life as I know it is about to be a memory of the past. Kind of a crazy feeling, eh?

Before we get to updates on the last few, lets take a trip down memory lane to when I was 12 weeks and really thought I was starting to show: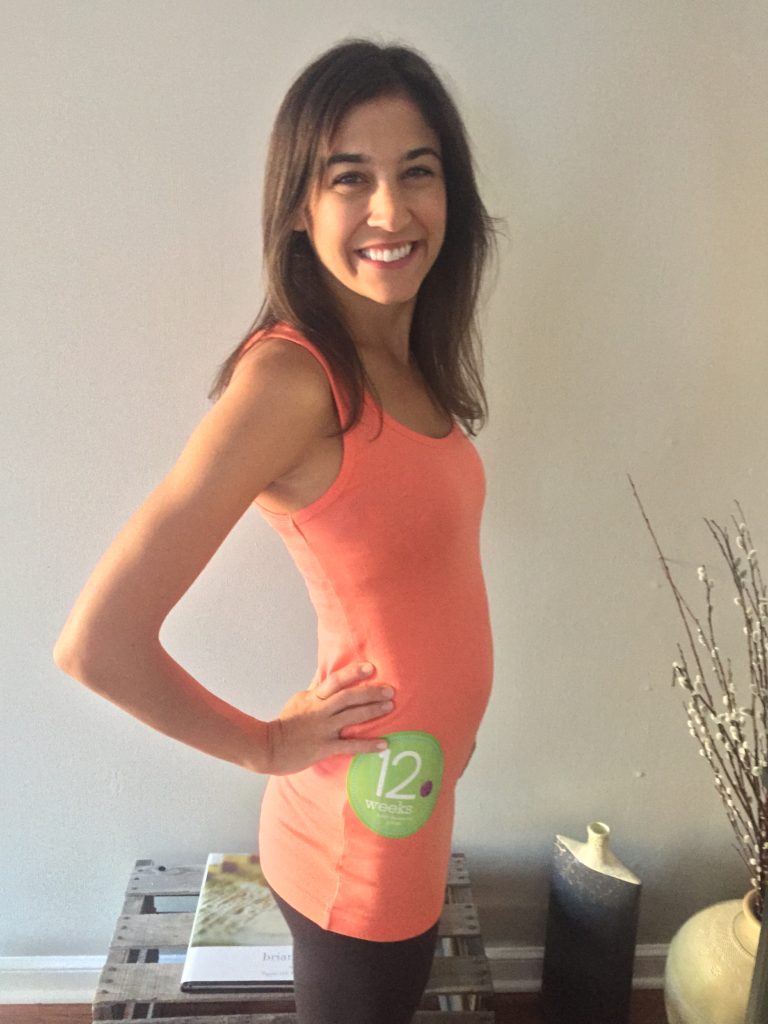 And then at 20 weeks, when I thought I was "sooo big"..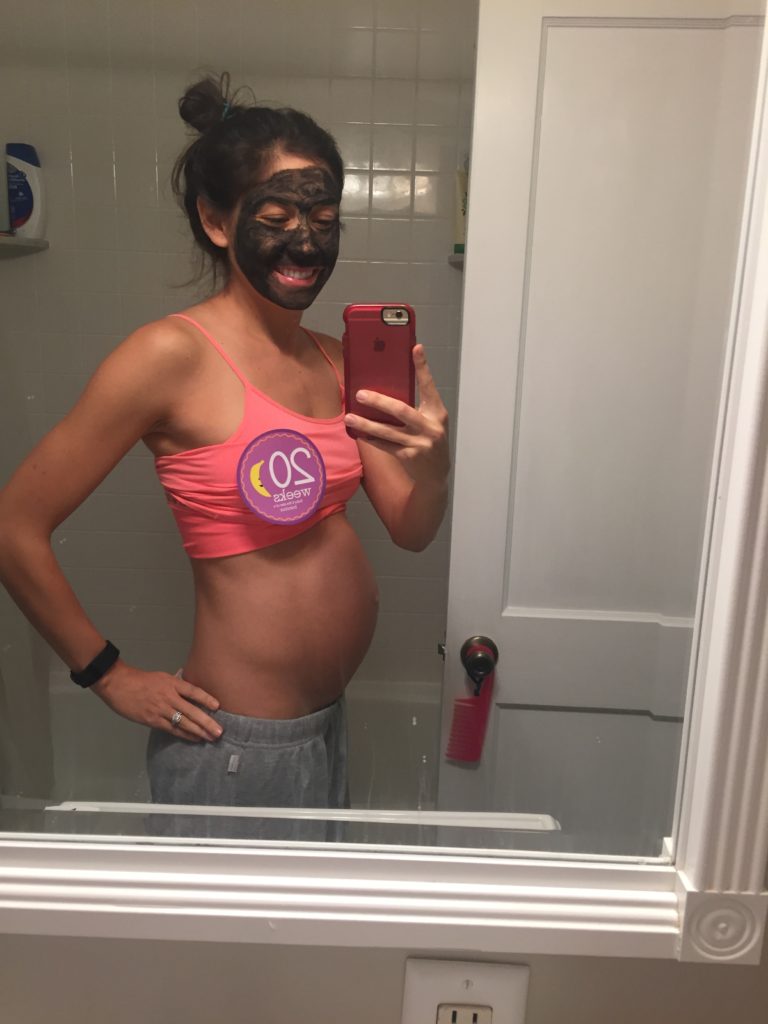 Fast forward to Week 35: (& an awful belly pic – sorry!)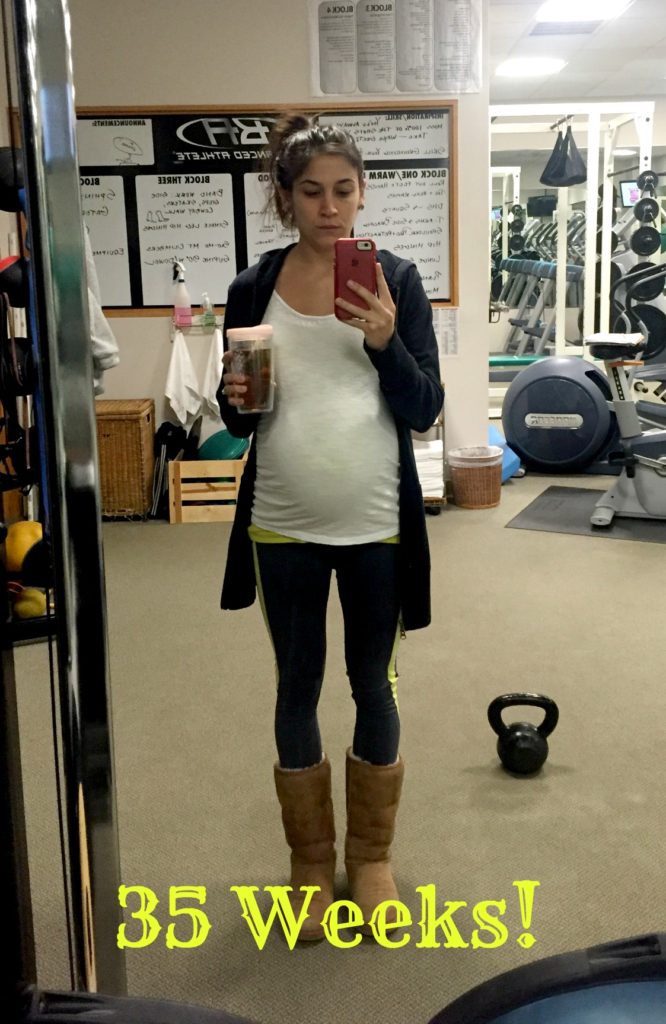 And Week 36: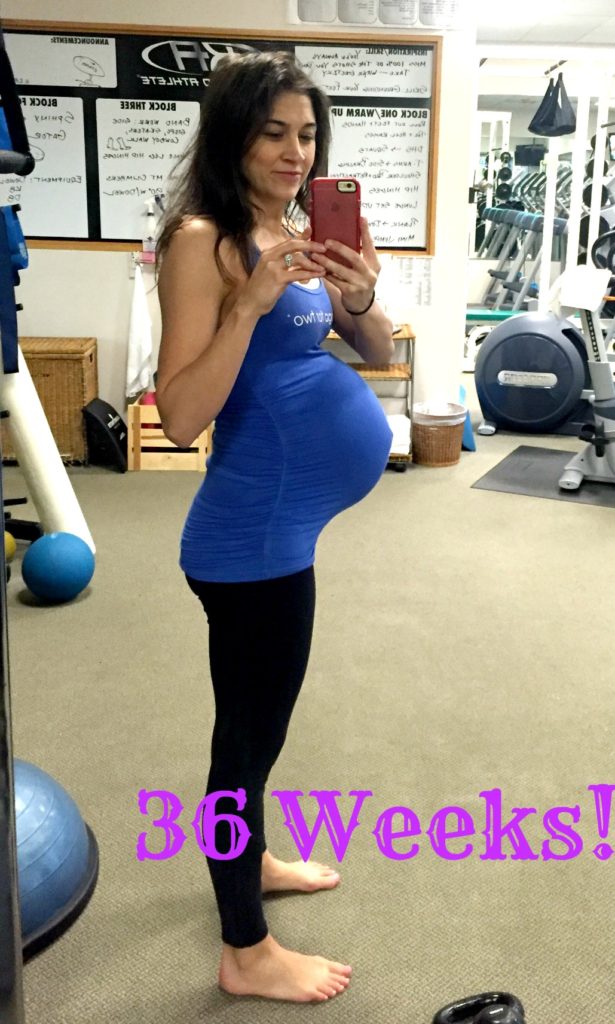 and now at the beginning of Week 37: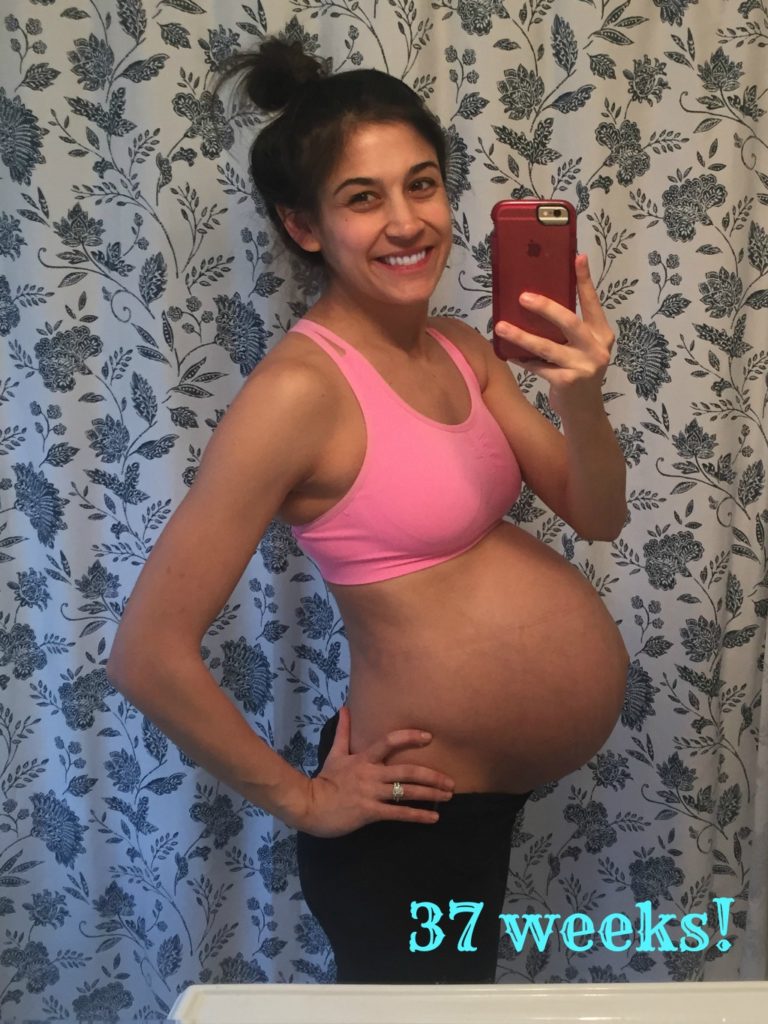 feeling…oooh so ready! Right now we are full term and little girl can safely come at any point now! Not getting any hopes up here. They say the average first time pregnancy goes to about 41 weeks and 3 days, so it looks like I need to prepare for another month or so. Anything earlier will just be really darn cool!
Random thoughts and how I'm feeling:
-I have been experiencing some sort of Braxton Hicks contractions for about 2 weeks now. They either feel like a crazy hardening in my belly (which sometimes I can't tell if it's just her moving or an actual contraction), or they feel like period cramping. Just everything getting ready for action!
-At my 36 week appointment, my midwife said I was about 60% effaced and at my 37 weeks appointment she said the baby was weighing in around 6-6.5 pounds. Taking both those measurements with a grain of salt, because I've heard so many stories about people walking around dilated for weeks with no labor, as well as being told they're going to have small or huge babies and it ends up being the exact opposite. But it's all fun to think about!
-I feel like belly changes every day. Sometimes it looks bigger, sometimes it looks lower, sometimes higher. Definitely depends on the time of day I take the pic, for it's absolutely larger by the end of the day after I stuff it with a bunch of goodies.
-A whole mess of emotions!!! Super excited, super anxious, a wee bit scared, and quite impatient! At moments I feel like we have nothing else left to do and then the next second I feel like we still need to do so much to prepare!
-Putting together our bag for The Birth Center. Since we are not there very long after delivery (we come home 6-8 hours after delivery), I really don't need that much! Pretty much just need clothes to come home in for baby and I, something to labor in, and some food!
-Speaking of food, hoping to start some meal prep this week, so that we will have meals ready to go when she is here!
-Seriously. What is she going to look like? How much hair is she going to have? What is she going to be like? Ah, I can't wait!
Cravings:
This pregnancy is definitely lending itself to the whole old midwives tale that girls make you crave sweets.  Not that I'm not always in the mood for some chocolate, but it has been pretty darn strong these past few weeks. Just in time for the candy coated Cadberry Mini Eggs to make their appearance. Trying to keep my treats as healthy as possible and I think I'll do a post about this later in the week!
Other than the sweets, oatmeal is my jam. Avocado toast, sautéed spinach and a perfect egg is an everyday occurrence.
Aversions:
By the end of week 36 I started getting a weird onset of nausea after eating. Pretty sure that I can attribute this to running out of room on the inside (which is so annoying, because I really do love to eat)! The nausea actually woke me up the other night – nothing a sleeve of saltines couldn't fix. For the reason, I'm just not really excited about all that much. Hopefully this will pass soon…since…she's going to be here SO SOON! For now, this means lots and lots of small meals.
Purchases:
We got so many amazing things from our friends and family, so we really didn't need to get that much more! I bought a couple of nursing bras and these, plus some nursing tanks. I also got a few sleep shirts/gowns from TJMaxx and some comfy grannie panties :-).
I still need to get bottles, a breast feeding pillow and then I think we are pretty much good to go!
Workouts:
Continuing to do something active pretty much everyday – whether it's yoga, body weight stuff, or a walk. Like I said before, I am taking things much slower, no jumping, no running – very low impact and focusing on how my body feels. Lots and lots of shifts happening everyday and sometimes which each little movement, so focusing on very mindful movements. My energy is good for most of the day. I start early and after lunch time I am ready to put my feet up for a bit, before heading back to work. Loving my schedule right now!
As her arrival gets closer, I am taking some time to do some reading. Still working on Ina May's Guide to Childbirth and also skimming back through Happiest Baby on the Block.
Otherwise, lots of time with Bri and our friends. Lots of rest of trying to stay nice and relaxed! Hope y'all have a good week!
Xox,
Ash