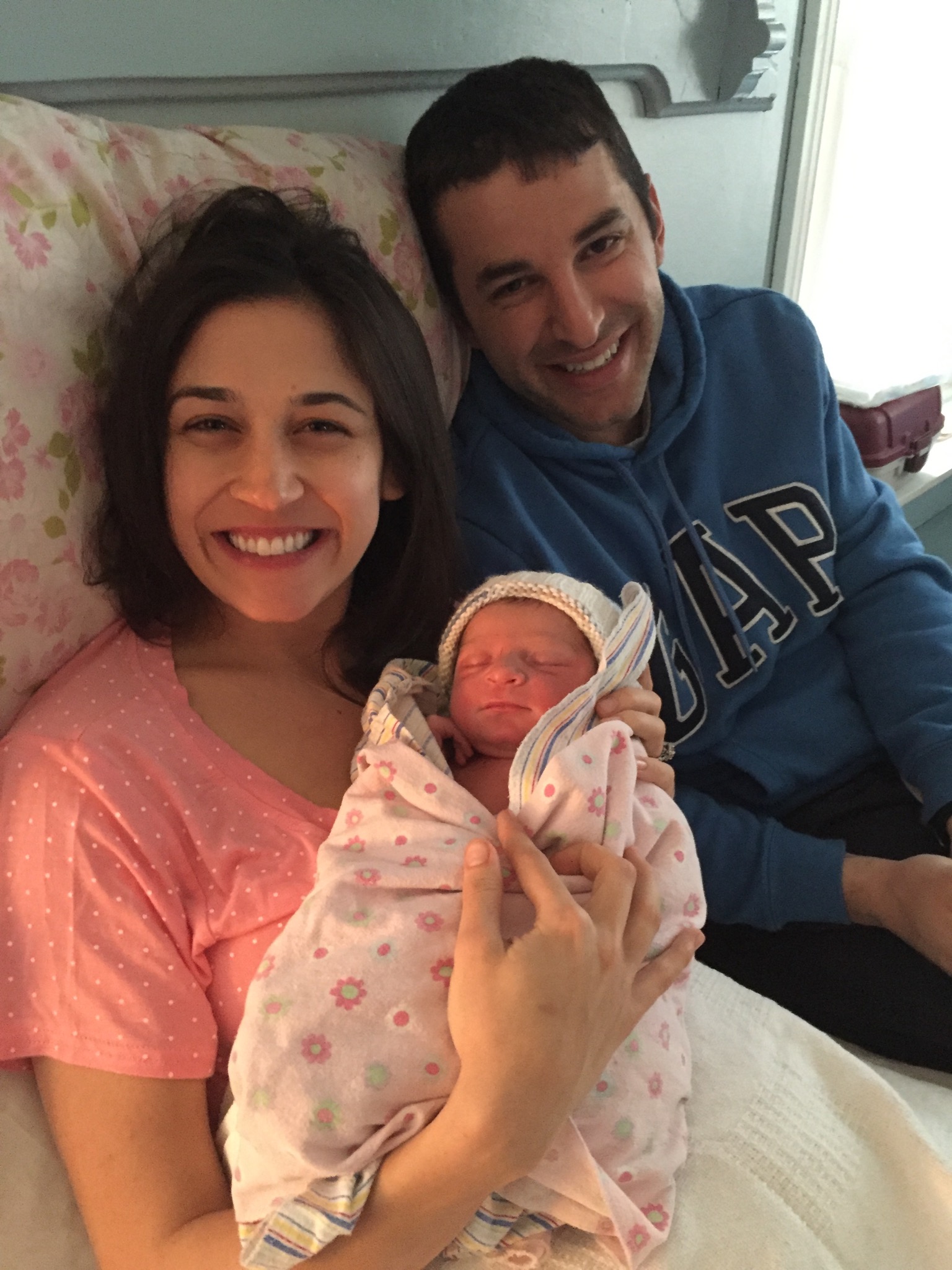 21 Apr

My Birth Story. Well, Delaney's Birth Story. (reposted)

(Since integrating my blog with my new website, all of my old posts were lost. I am slowly going to start adding them back to the blog, so they will obviously be a bit out of order. These recaps are so special to me and have pretty much become Delaney's baby book, so I will be resurfacing them slowly. Bear with me)!

I am so excited to finally and officially announce the arrival of Delaney Wilson Leonetti! She was born March 20, 2016 at 3:37 AM and she weighed 7.6 lb and was 20.5 inches long.

I have been trying to find time to sit down and put together her birth story, but woo wee, adjusting to life with a newborn is challenging. I remember before she arrived, I was like oh, this will be great, I can take time to relax, feed baby, lay on the couch and blog. Fat chance. I can't really tell you what I do all day, but somehow the day starts before it is light out and before I know it, it's time to eat dinner and get ready for bed again. Everyone told me this. But it's another one of those "must experience for yourself" lessons of mommyhood.

Anyways, here it goes…A pretty raw and open recap of our experience…

I'm going to preface that leading up to the weekend I went into labor, things were changing. I actually felt like I had the flu. I had been feeling so good and full of energy, but on Wednesday, fatigue and body aches set in. I had horrible headaches and was just wiped out. I had an appointment with my midwife on Thursday who told me I was 1cm dilated and my cervix was very soft. She cautiously said that she didn't think I would make it to my next appointment (on the following Tuesday) and that I wouldn't have a very long active labor. Of course we took this with a grain of salt, but we both still had a funny feeling that this little girl was going to be here by the end of the weekend.

On Saturday, March 19th Brian and I woke up and went out to run errands before heading to the Philadelphia to visit friends and see their new house. I had been experiencing Braxton Hicks contractions pretty regularly for the past two weeks, but this morning things felt different. The contractions started in my back and resembled more of a period cramp with a hardening of my belly. While walking around Target these contractions actually made me stop and hang on to the cart for a moment. They weren't painful – just uncomfortable. We decided we better not head to the city, and it was a good thing that  we didn't because things were steadily picking up.  Around 2:45 we decided to text our Doula, just to give her an update and let her know that "something' might be happening. She immediately called me to check in and said that I sounded a little too "cheery" for things to be too far along, but most likely things would pick up as the sun went down. (So weird, I felt like some sort of animal going to deliver her baby in the woods, ha).  Our "birth plan" was for me to labor at home as long as possible, so she advised me to try and ignore (not time) the contractions until I could no longer ignore them – that way I wouldn't wear myself out timing them and feeling like I was in labor for a long time.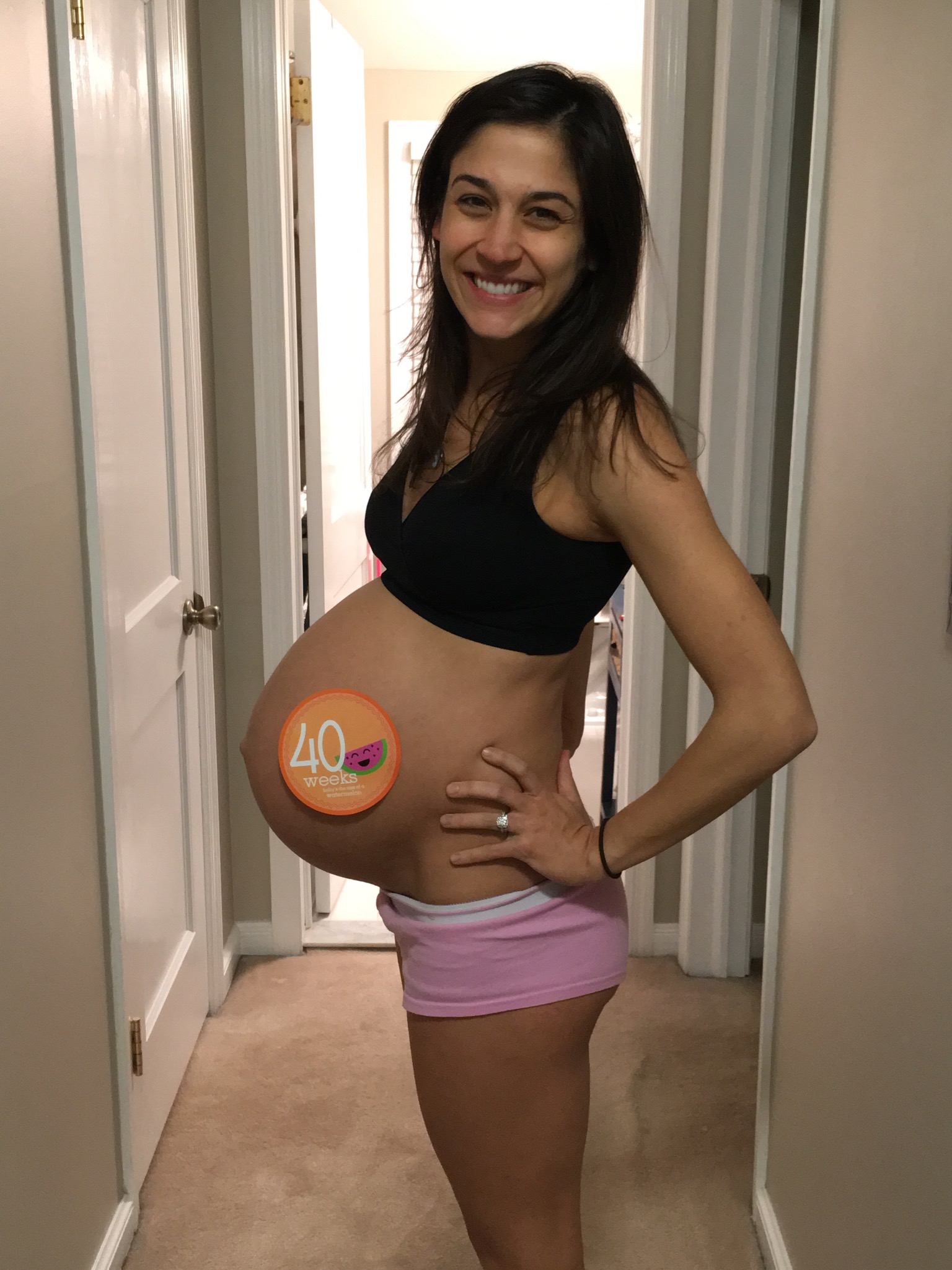 Brian and I ate lunch (the biggest turkey club with 3 pieces of bread, and extra bacon), I vacuumed the house and changed the bed sheets. I was trying to stay busy, but also rest, for it seemed like we were heading for a long night ahead of us. Things were definitely moving along, yet still super manageable. My contractions were coming 3-8 minutes apart, so it was confusing because they weren't always 4 minutes apart, lasting for a minute, for one hour (which is what they tell you to wait for).
I spoke with my midwife around 6PM who told me to try laying down or getting in the bathtub to see if things slowed down and maybe even get some rest. They did…for a moment, but walking through the contractions felt much better. By this point I had reached the 4-1-1 pattern regularly and she told me to hold out until they were so intense I could no longer stand it. Brian's response, "well that just sounds awful". So we waited and I paced. Finding every place in our floor that creaked, making a mental note not to step there when the baby was napping. 🙂 I kept asking Bri, do they look more intense? I didn't want to say they were painful, because I had no idea just how painful things were going to get. I just stayed focused on my breathing and worked to keep calm through each wave.  I graciously let Brian finish his chicken sandwich that he ate while supporting me through contractions and of course waited until all the March Madness games were over for the evening. By 11:00 it was very apparent that things were escalating quickly. We decided it was time and after speaking to our midwife she could hear it in my voice. We grabbed our bags and headed to The Birth Center at exactly midnight of our due date – March 20th.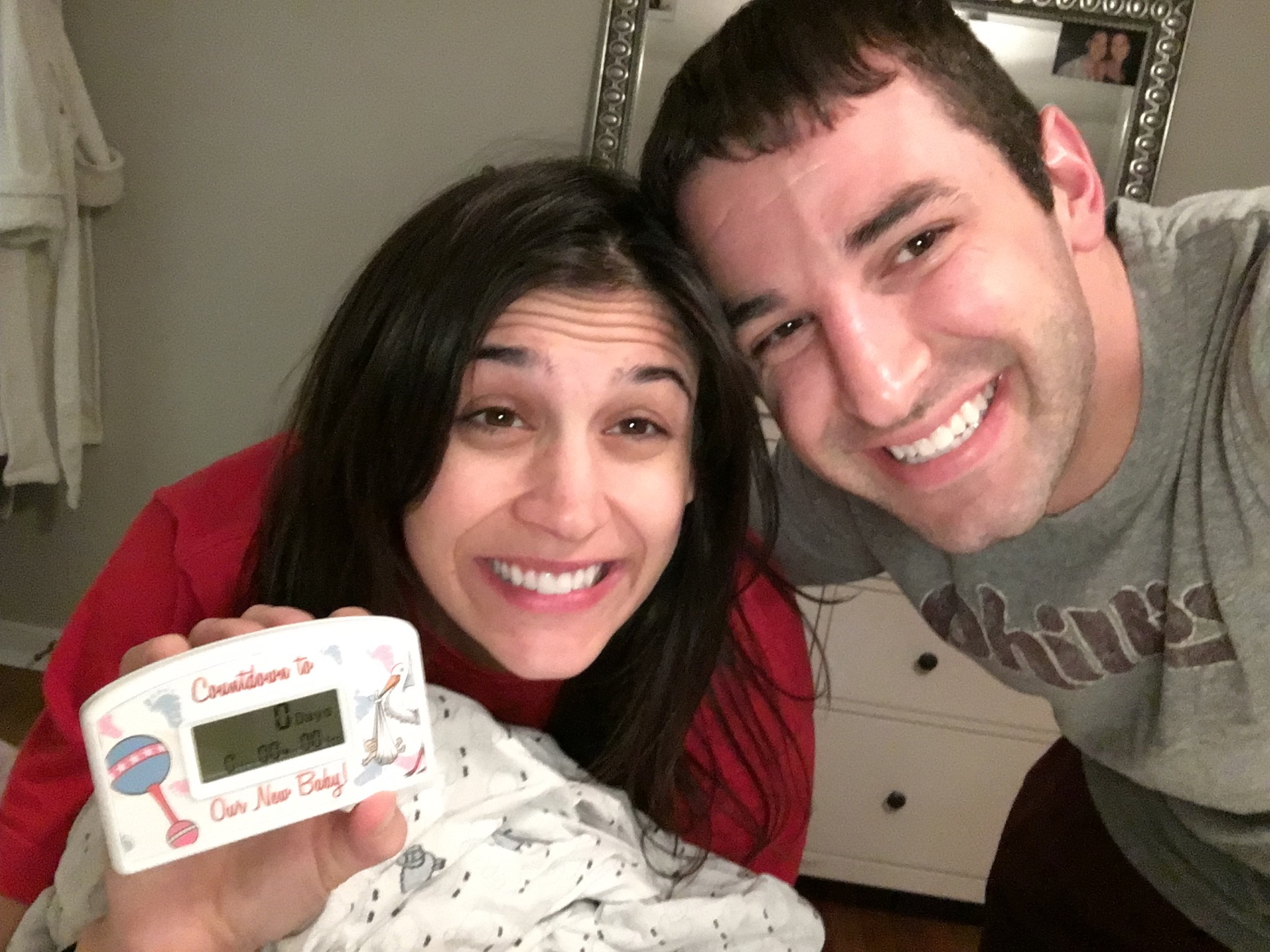 (Sure, Bri, lets get a picture mid-contraction)
Our doula met us there and we were told upon arrival that the room with the birthing tub was being used by another family. Out the window went that part of my birth plan. I strapped on my big girl pants and went with it. Au naturale without the assistance of the tub. Oh Baby. By the time they checked me at 12:45 I was 6cm! I was so relieved to hear I had progressed that much and knew we were in the home stretch. Brian called our parents to let them know they should leave. Our midwife had told us not to tell anyone to leave before I was checked, so that they weren't waiting around for forever. We figured even my parents because 4 hours away, they'd have no problem getting to us in time.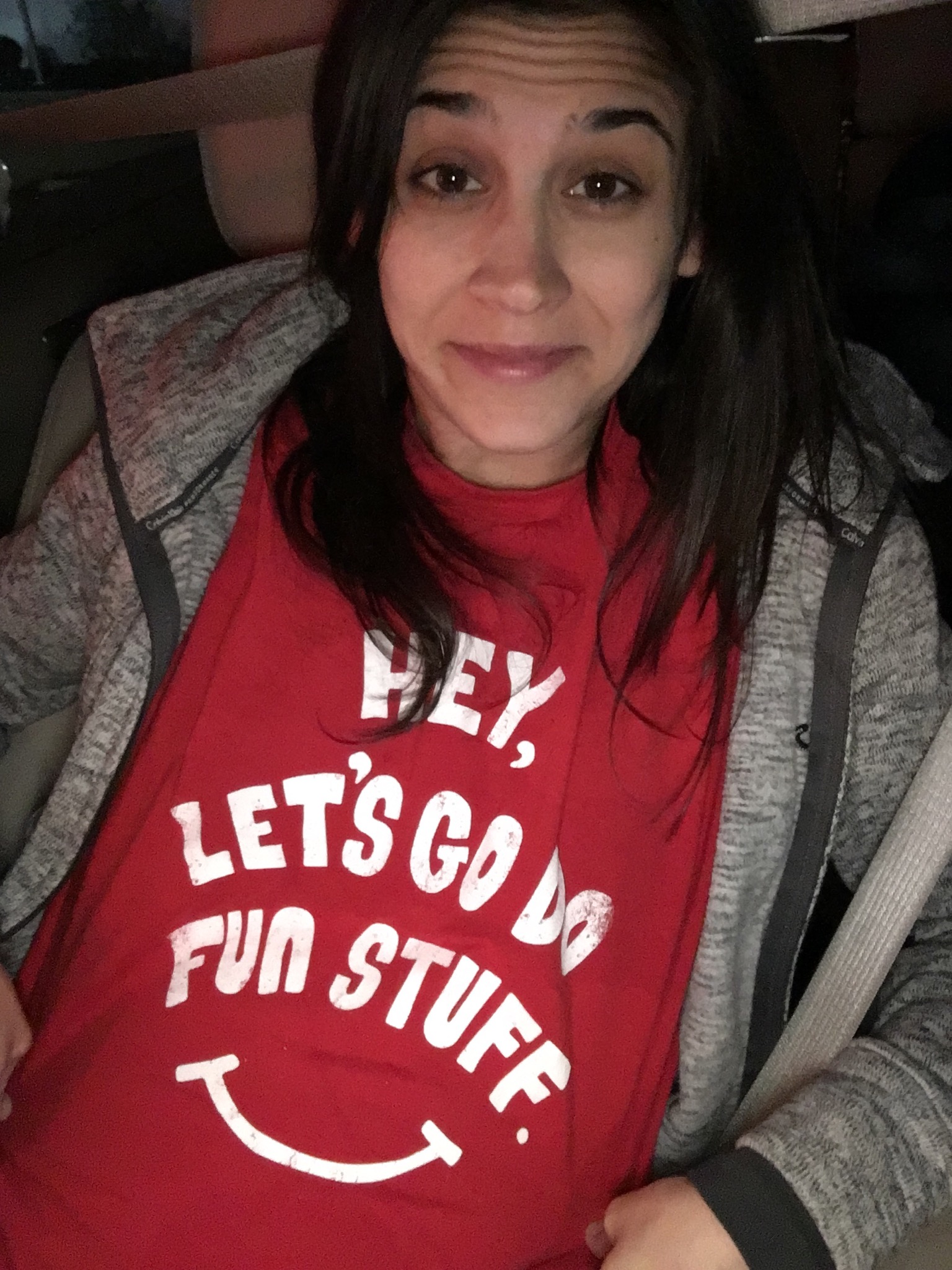 (I figured this shirt of Brian's to me most appropriate for what was about to go down)
Pretty much immediately after getting checked I feel like things took a turn. The contractions were coming right on top of each other  and very strong. My midwife was able to relieve some of the pain by applying counter pressure on my hips while I stood hanging over the bed which felt great.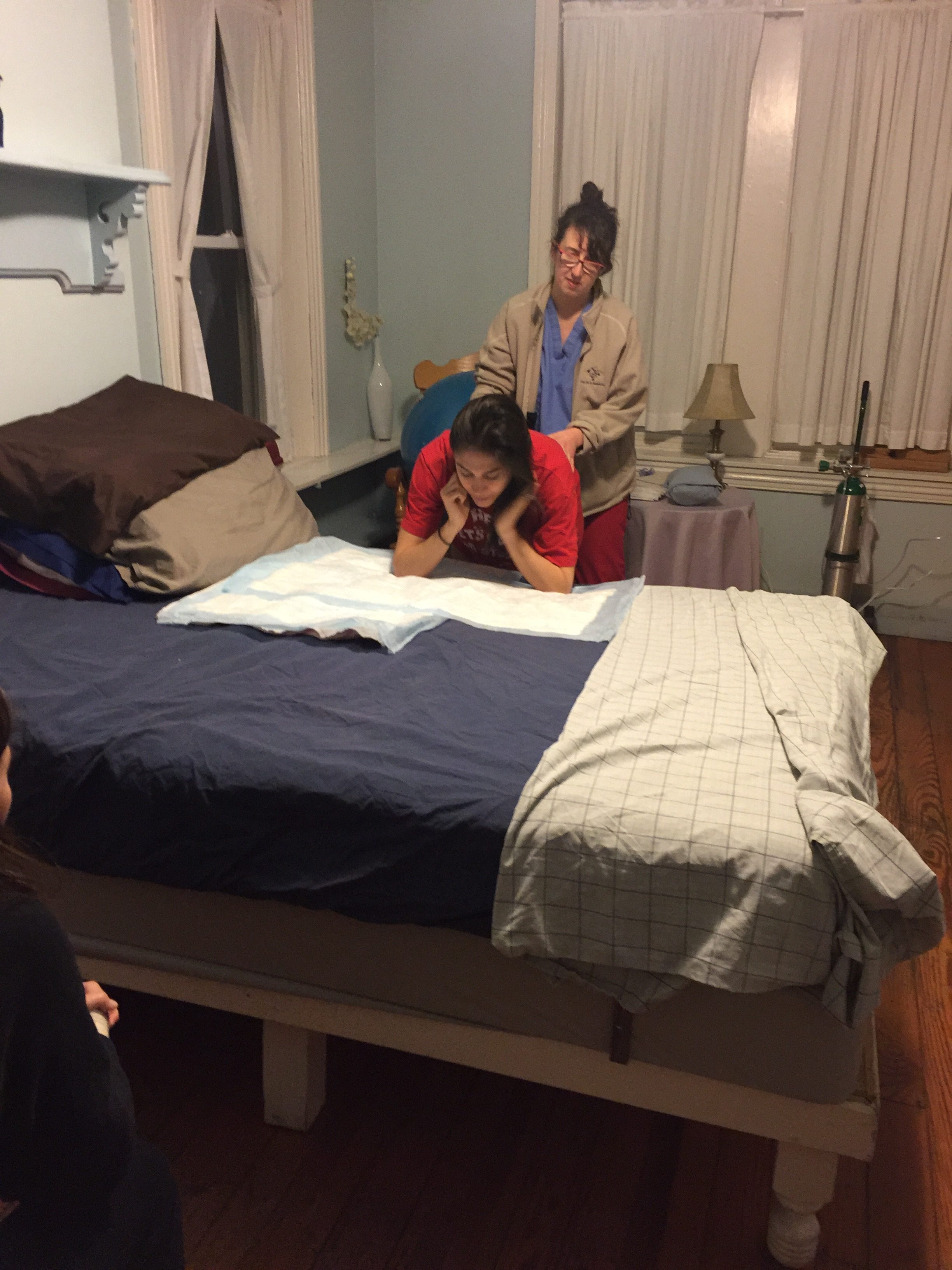 I had absolutely no desire to lay down. It just made no sense to me and felt like I needed to work with gravity and continue to "squat into" each contraction. For the next 2 hours my doula was across the bed from me holding my hands while I pulled back giving me something to work against. I was officially in transition and trying to stay controlled. Taking it one contraction at a time. I had read about thinking of the contractions as waves and riding each wave – knowing that each one was getting me closer to meeting my baby. At one point I asked how much longer and got no response from anyone. There was a fleeting moment where I wanted to give in. I didn't think I was going to be able to do it. I wanted to walk myself to the hospital and get an epidural. But again, I came back to my breath and was able to calm myself down.
All of a sudden, around 3 AM, that urge to PUSH set in. I could tell I was crowing, she was coming fast, and I NEEDED to get her out of me. May sound cheesy, but I transported myself back to the soccer field, running sprints at 6AM with my teammates and dug deep. They asked me to flip around and try to use a birthing stool. Basically it was a piece of metal that was in the shape of a "U" and covered with pool noodle on top to hold on to. Fancy, huh? I pulled up on the handles while pushing down through the floor and after 10 short (read: long) minutes she was here! She came flying out, fast and furious. I am still impressed by my midwives ability to catch her! It was like my entire body emptied and it was the craziest feeling ever. She came so quickly I had no idea it was actually her! I said, "What is it?!" I guess I wasn't expecting it to happened that quickly and all at one time! Come to realize she was actually born "en caul", which means the amniotic sac never broke. Since I was at The Birth Center they didn't break it for me, for they would rather things happen naturally on their own. I had never heard of this before, but later found it how rare it is. 1 in 80,000 births and is considered to be good luck. Lucky for me, because I like to think this is why she slipped on out so quickly without getting stopped along the way!
They immediately put her into my arms and onto my chest. She let out the most beautiful cry ever. It was the most wild experience in the world. I was in shock and just trying to process what had just happened. They helped me over to the bed where Brian and I just stared at her in amazement. She was the most beautiful and amazing thing I had ever seen. Shortly after, Brian cut the cord and I had to deliver the placenta – which did not feel great – luckily I had the best distraction – and they quickly stitched me up – also did not feel great. They cleaned her up and handed her back to me where she immediately pooped all over me and I happily laid there with her skin to skin and within the hour she worked her way to my breast all on her own. A pretty amazing thing to see.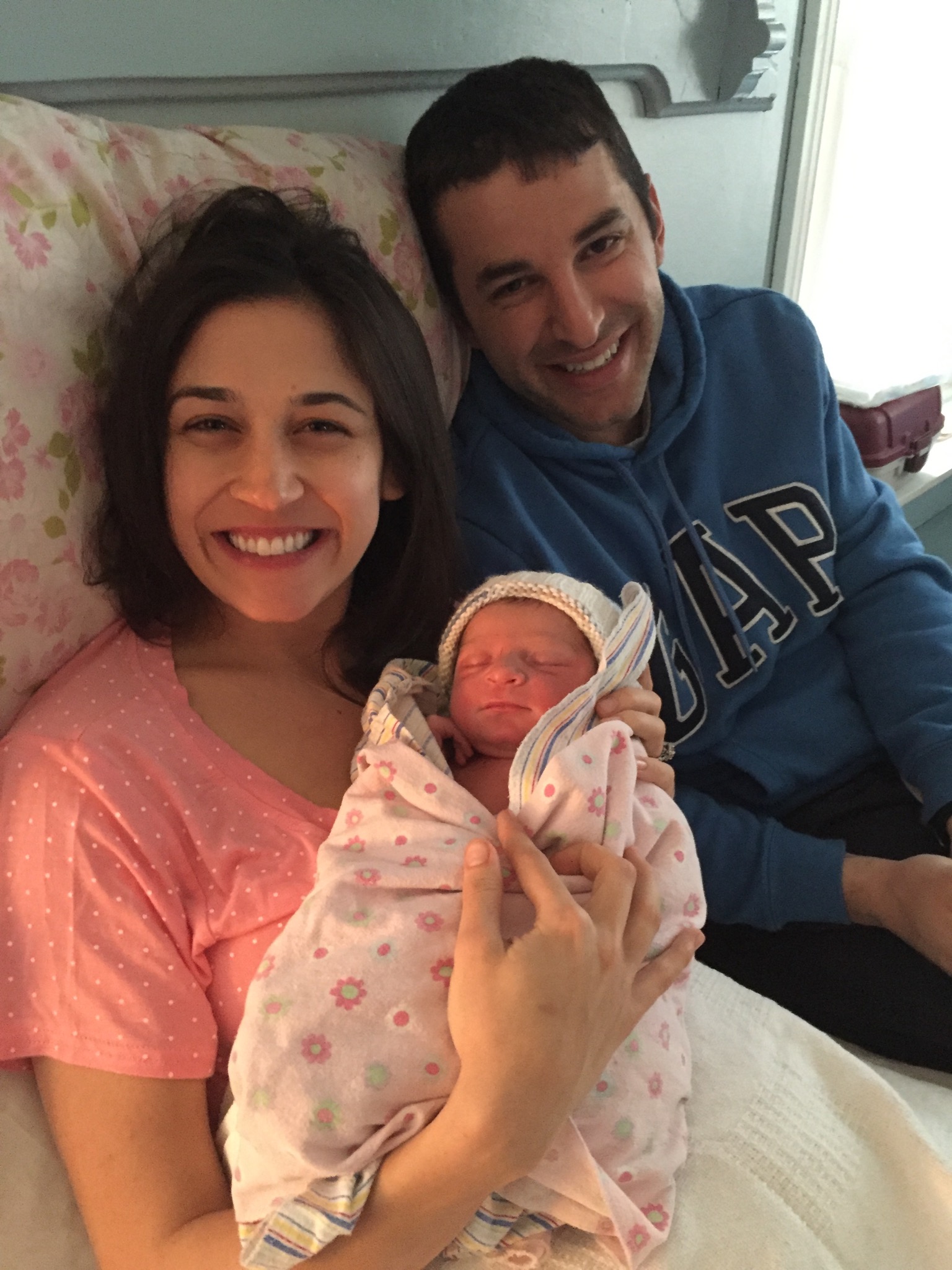 Brian and I sat there together as a family, just the three of us, trying to take in every moment. Trying to process what just happened. It felt like a lifetime waiting to meet her and the moment finally arrived at 3:37 AM. Around 5 AM our parents came in to meet our sweet little Delaney, we ate what tasted like the most amazing pepperoni pizza to celebrate and just laid there, the happiest we had ever been. A family of three.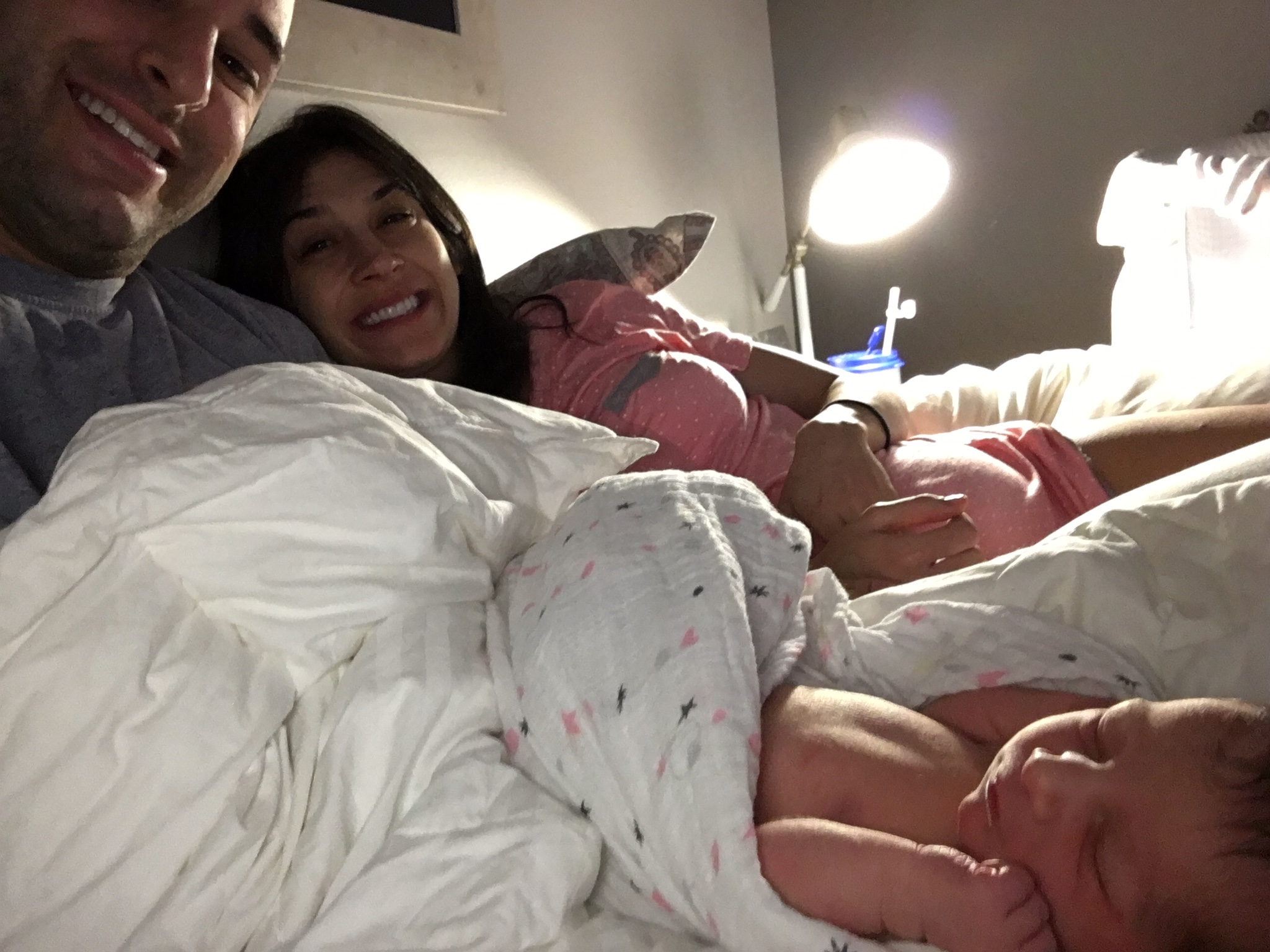 It all seemed like a blur. Getting pregnant, being pregnant, labor. This little blip in time that was so quick and now we have a baby girl that will forever change our lives. I don't even know what life was like before her. She completes us. I am still adjusting to motherhood (I assume that I will be for a long time). Each day is something different. And each day it better than the last. She is mine. She is ours. Brian and I made this little miracle and there is no better feeling in the world. I would do it over again 100 times. From the moment we found out we were expecting to that first little cry – it was the most amazing experience and I know things will only get better as we watch her grow!