24 Oct

Delaney Diaries: 7 month update!

Month seven has been a big one. I know I know – I say that every month. It really is truly amazing the changes you little babes make in just one year. I love learning more and more about you each day, my girl, and this month I think we've really seen your true personality shine through. You are honestly such a joy to be around. Very rarely do we catch you without this big goofy grin on your face and with each gummy smile I become more infatuated with you. There is no greater feeling than walking into the room and once you realize we're there it's as if you've seen Santa or in my opinion, a cupcake the size of my head.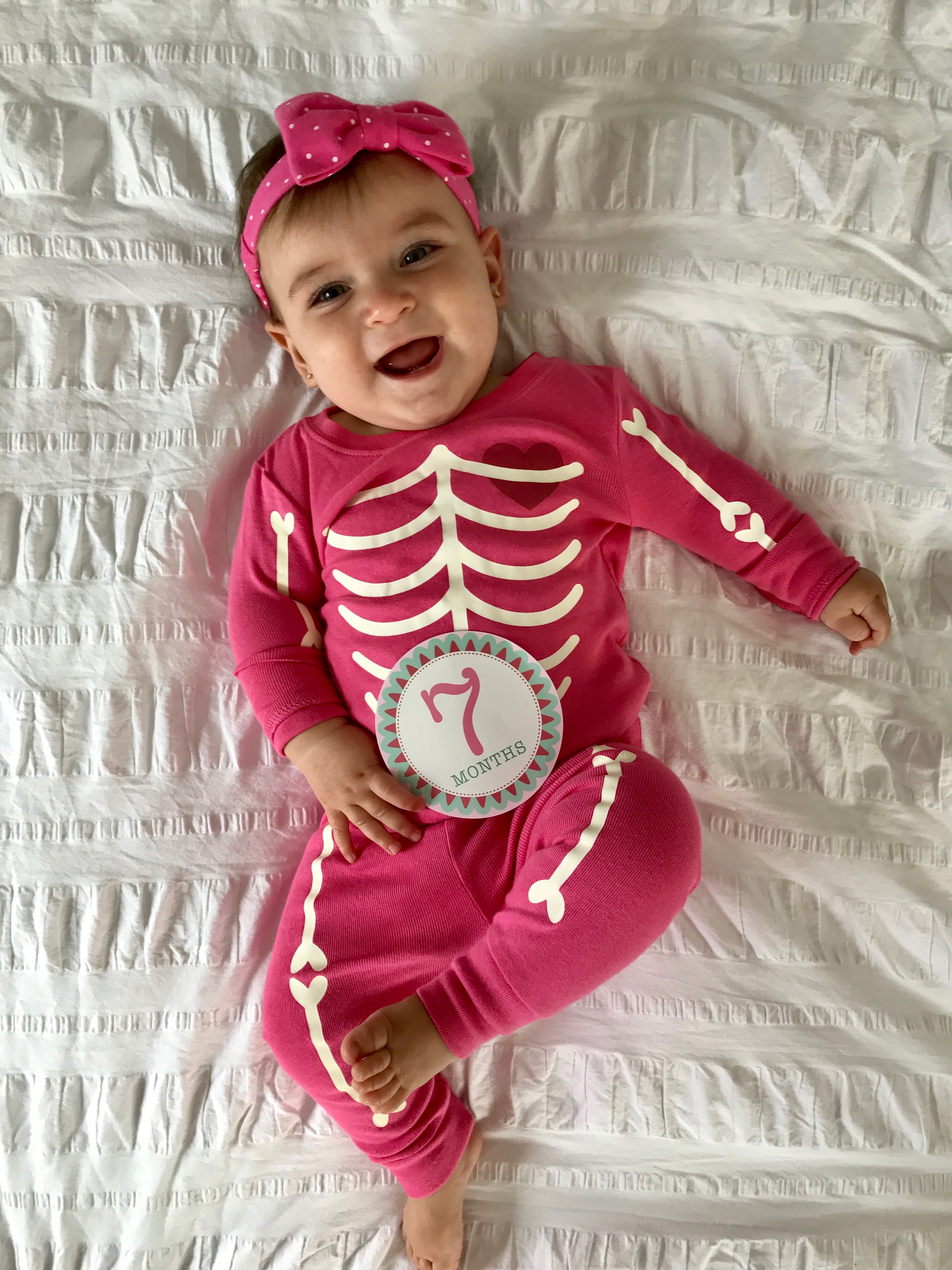 Although you are high energy and love to wiggle, kick of everything, bounce on your bottom, and roll all over – you're such a content and temperate baby. You're typically pretty darn happy just playing on the ground by yourself – focused and determined to master new skills. You have become so curious and it is so amazing to see your little brain in motion.
Each week, you've inched closer and closer to crawling. At this point you're up on all fours, scooting backwards and finding ways to work the room without breaking out into a full on crawl…YET. I have a feeling this next month, just like the last, will open up a whole new world for us!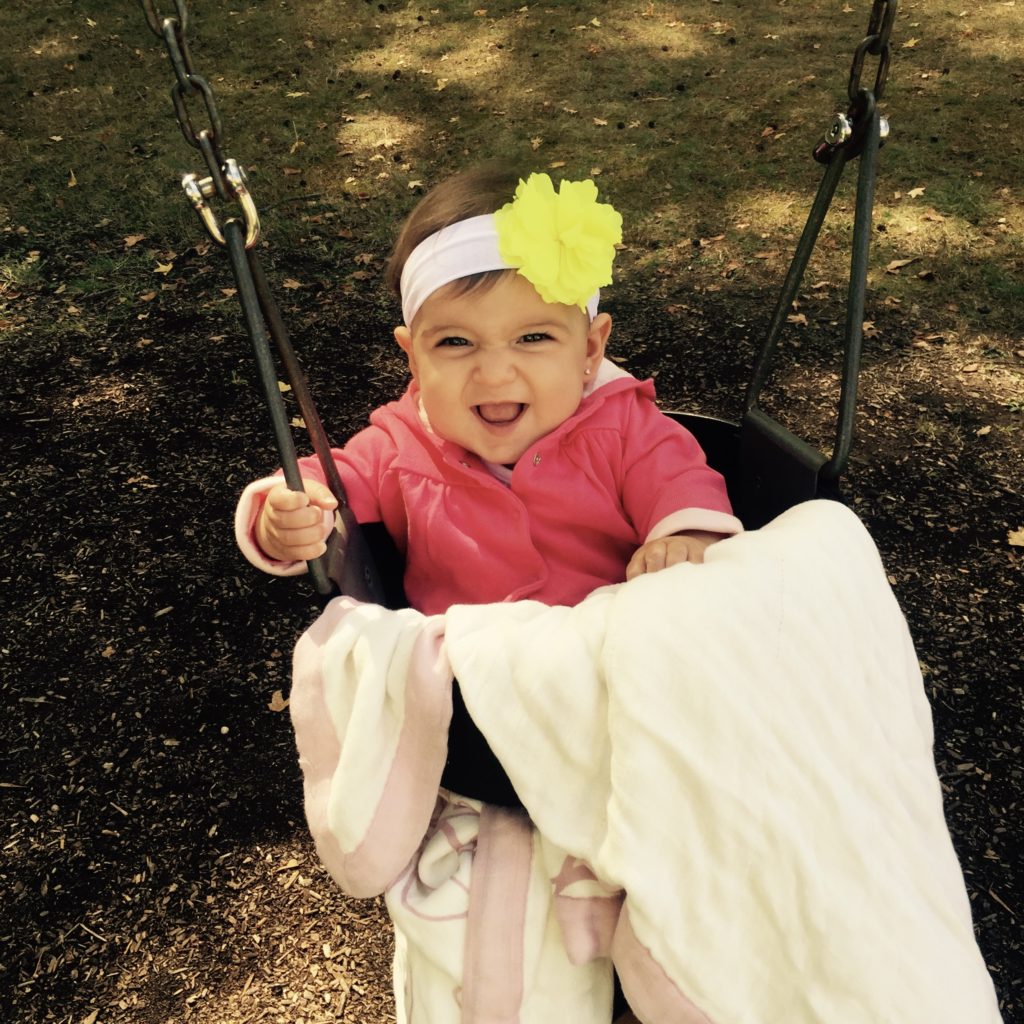 You also have learned how to wave "Hi" and "Bye" and you say…"Ahhh ga" – a lot. We don't know what it means, but you say it over and over…and over.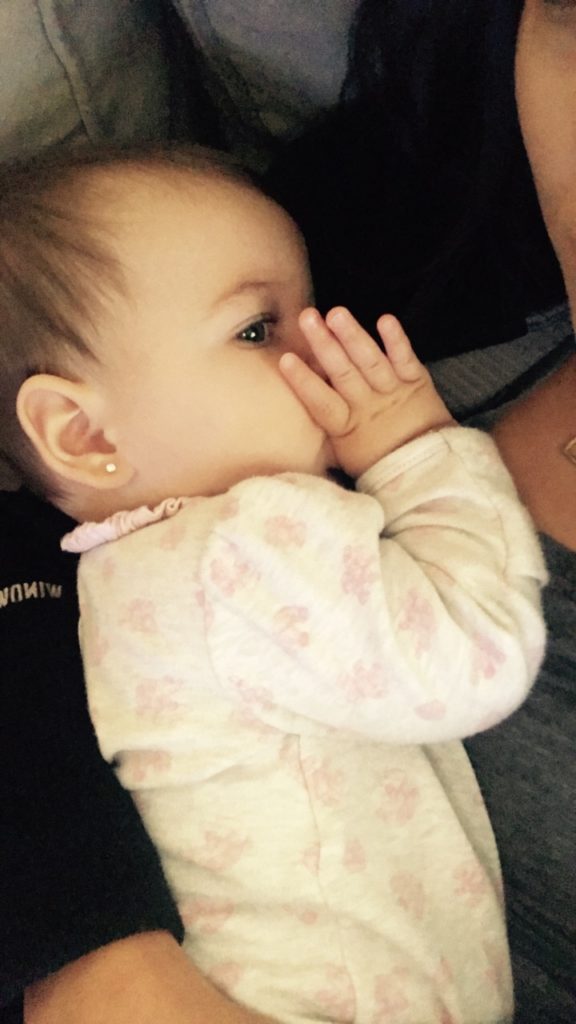 As for sleep this month, we had about a week of middle of the night wake up calls, but come to realize, all for good reason! You sprouted two new bottom front teeth towards the end of the month and it just doesn't seem real. Once those little babies broke through, you were back to your normal sleep routine – 7:00PM – 5:00AM, then back down until 8AM. There were a few sweet nights where you slept all the way till 7:30, but they were were matched with nights filled with 12AM and 2AM hangouts. The first few times you woke up I was confused – I wasn't sure if we were to let you "cry it out", try to calm you down or just feed you. Pretty much after the second night of hour long scream fests, only to be consoled by breastfeeding, I decided I'd use whatever Mommy Instinct I had a decided there was a reason your were waking, so went ahead and fed you. After a 10 minute feed versus an hour plus or more of trying to console you – I decided the feed sounded better for us both. After a few nights, your teeth broke through and the middle of the night feedings stopped. Not sure if this was the right thing to do, but it worked for us, and we will continue to learn together! 🙂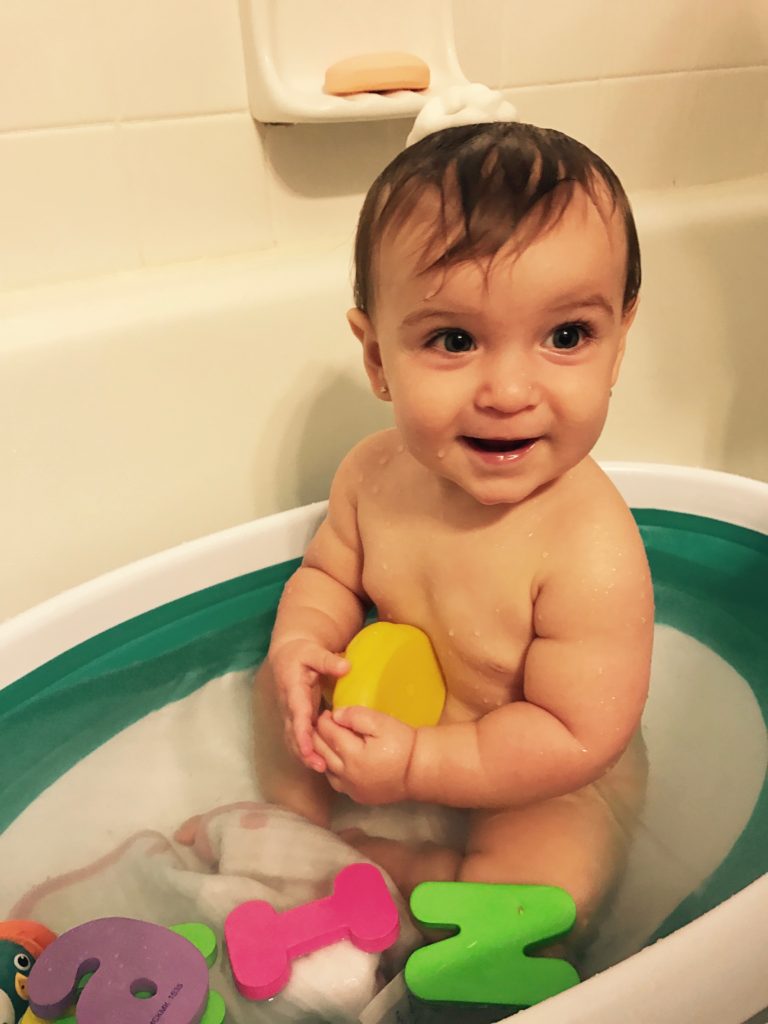 Your daily routine has stayed pretty much the same with a mid morning nap for about 2 hours, followed by an afternoon nap for another 90-120 minutes. It seems that you have dropped the late afternoon/early evening cat nap which has resulted in a slightly earlier bedtime. We've started to settle into a good routine with my work schedule, dad's work schedule, your naps and your feeding routine. I feel so blessed that you are such a good napper most days, since those few hours are imperative for me to get work done.
When you're awake, you are up and ready to go. Most of our mornings are spent at home – I feed you at 5am and then head to work until 8:30 while you sleep and play at home with Dada. Once I'm home to feed you it seems we have just enough time to eat breakfast together (I usually try to wait 30 minutes after a milk feed to introduce some solids), before it's time for your next nap. Mid-afternoon we try to get outside for a walk, run errands, or meet a friend for lunch or coffee.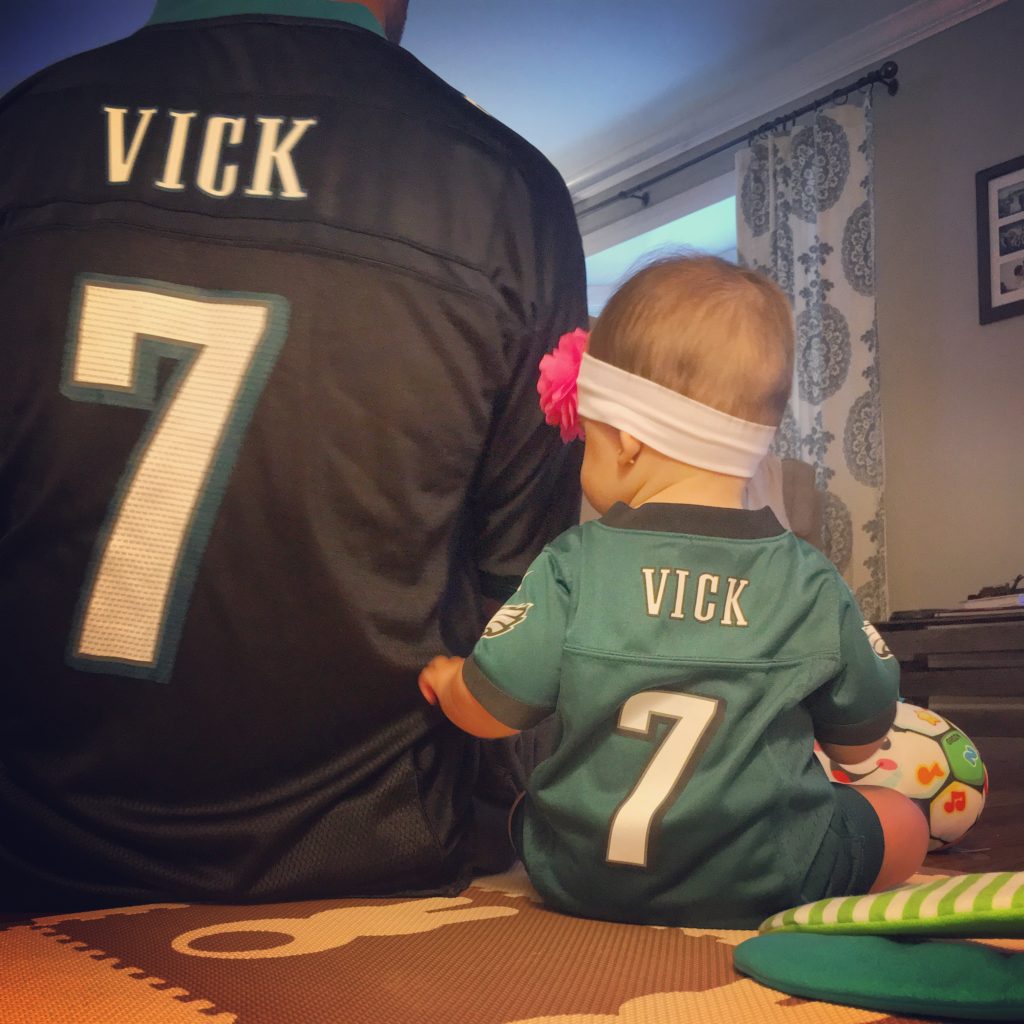 Most evenings are spent with Dada while I'm at work and he finishes the day with bedtime routines. Luckily, this is working for all three of us right now and we're able to manage this marathon-day schedule.
Speaking of solids – you have really expanded your palate this month and it has been so fun to experiment with new foods! Like I mentioned before, we are following a Baby Led Weaning approach, which involves all solid foods and no purees. New foods this month included, eggs, steamed carrots, red peppers, green beans, salmon, banana, cucumber, strawberries, zucchini, spaghetti squash, ground turkey, and peanut butter!! Most of them time you are just interested in their texture, but you always take a taste. It's hard to tell how much you are actually eating, but your poops have definitely changed and your swallowing something.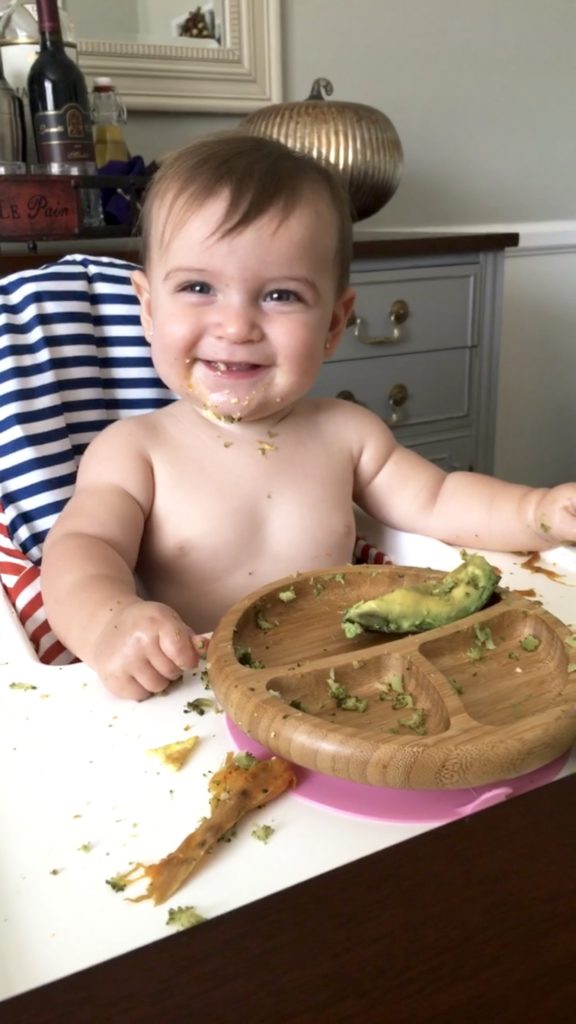 Even though I know this "technique" isn't for everyone, I've truly enjoyed every bit of it so far! You're so curious and playful with your food and love to let out little yelps and this little snort thing with your nose when you have a mouth full. In the past month your fine motor skills have really developed and I believe that BLW has encourage this – a lot. You've gone from grasping things with your whole hand to being able to hold small things between your thumb and forefinger. You've also begun to learn and understand different textures of foods and how much pressure to apply when holding. I find it fascinating!
Your main food source still continues to be breastmilk and I cherish these moments with you. I feel so lucky to have been able to breastfeed you this long and I can't wait to continue the journey. I feel so connected to you in those moments and there has yet to a be a moment where I'd rather be anywhere else.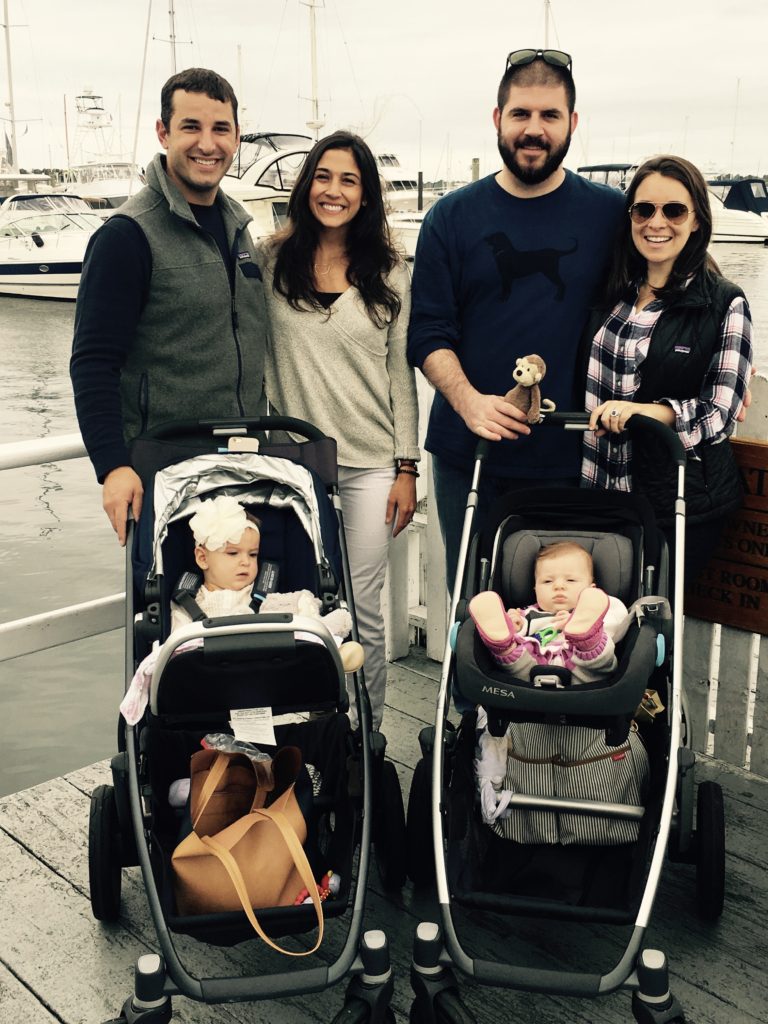 Most of our weekends were spent away this month, traveling to the beach, to Philadelphia,  and making the trip all the way to Newport, RI! This was our third year going to celebrate our anniversary and visit friends, and technically your second (since you were in my belly last year)!  Each year has been a bit different and it was fun to reminice about how much has changed these past couple years.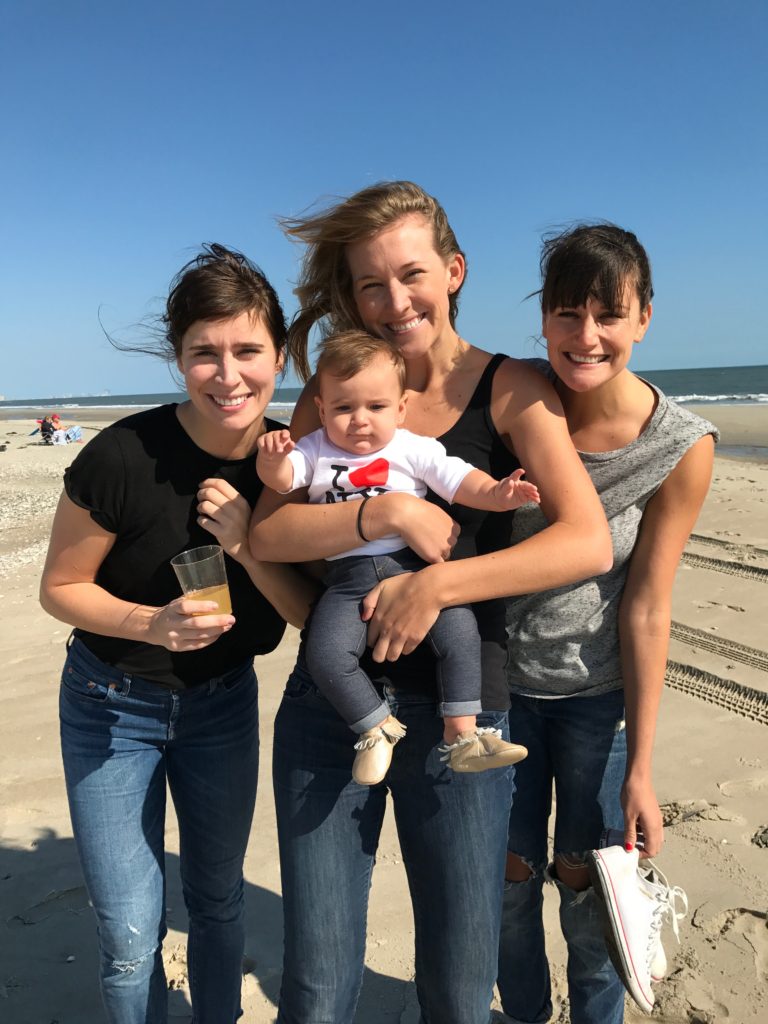 You also had your first official girls weekend at the beach. Three of your crazy aunties took the bus from New York to hang our with yours truly and we had a blast! You fit right in, brunching like a boss, participating in wine and cheese nibbles and debuting in music videos on the beach. It was so special to see them interact with you, treating you and loving you as if you were their own. We are so so lucky to have such wonderful people in our life, Bug. You are very very loved, by us all.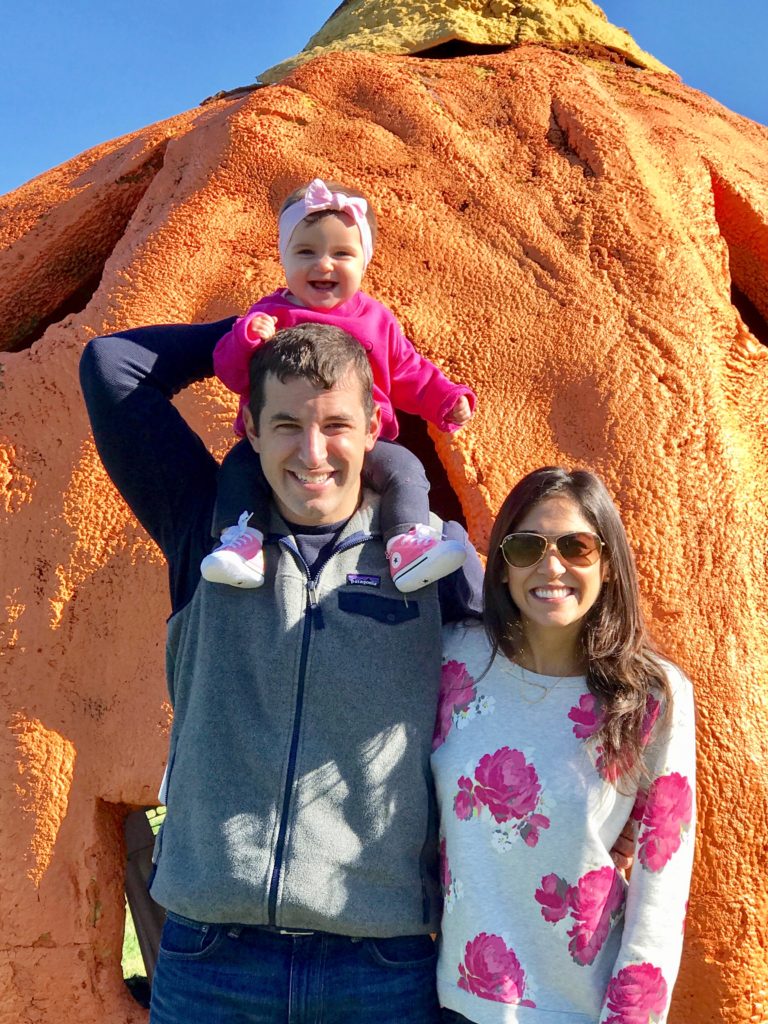 Likes:
-When we sing to you – especially "If you're happy and you know it", "ABCs", and "If all the raindrops were lemon drops and gum drops.."
-Sitting up and bouncing on our butt and rolling all over the place. Front to back, back to front.
Sucking your thumb
-The chandelier in you room. You get this creepy little grin and let out a breath each time you see it. It's absolutely hilarious.
-Doggies! You cousin Taco and new friend, Sophie continue to be so intriguing.
-Carrots, sweet potatoes, and avocado
-Grabbing faces
-Playing with Dada's belly
-Lots of tickles – on your sides and under your neck
-Looking and being outside
-Bath time! Now you can sit up and play with all your toys. You loooove to splash!
-Pushing up onto your hands and knees and "full locust" on your belly
-When we give you raspberries on your belly
-Ripping apart and eating your floor mat
-Looking at yourself in the mirror
Dislikes:
-When we walk out of the room
-The Vitamix, hairdryer, or vacuum
7 month favorites:
–Sophie the Giraffe Teether Toy 
–Natursutten Pacifier (although she doesn't take a paci, it's become a great teether and I feel good about her using it, because it's made without nasty ingredients)
-Tags … on anything
–Zoli Bunny Teether continues to be a favorite
-Mirrors
–Melissa and Doug Rainbow Stacker
–Infantino Discovery and Play Soft Blocks
–Infantino Vibrating Grape Teether (I don't love what it is made out of, but she likes it…so I give in)
–Tadpoles Playmat – I like that colors are neutral and isn't an eyesore in out house! 
Feeding, Bathing and Sleeping:
–HALO SleepSack & Pottery Barn Chamois Dot HALO SleepSack (sooo soft and perfect for colder nights)
–Sleep Sheep and Box Fan – every night and every nap
–Bumbo Seat (we put this in the sink for bath time after feeding time)
–Boon Naked Collapsible Bathtub (We loved this when she was a newborn and we now love that it converts into a safe place for her to sit up and play with her toys.
–BABYBJORN Travel Crib Light (I know it's a bit more expensive than other pack and plays, but soo worth it. It super simple to set up and take down. Small footprint and she sleeps great in it!)
–ThinkBaby Steel Bottle – we started to introduce water and drinking from a sip cup. The steel makes it a little heavy for her to hold, but I like what it is made out out of. I only put about 2 ounces of water in, so she's able to lift it easier.
On The Go:
–Bob Stoller (Loved breaking in this bad boy! Such a smooth ride!!)
–Leather Backpack – I have given up on the over the shoulder diaper bag and moved onto the backpack. Biggest word of registry advice for new moms – get a backpack. Your shoulders, back, and belly will thank you!
-My new IPhone – with a lot more storage for all the dang pictures and videos I take of you!
–Disposable place mats – great for putting on the table at restaurants or when traveling!